Military honours: Bomb rescue soldier given award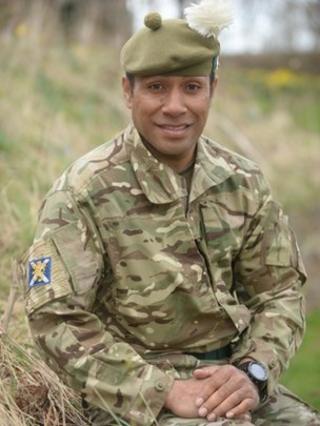 The bravery of a soldier who went to the aid of nine colleagues caught in a fatal roadside bomb blast in Afghanistan has been recognised.
Sgt Saiasi Nuku Vono, 36, of the 2nd Battalion The Royal Regiment of Scotland (2 Scots) has been awarded a Queen's Commendation for Bravery.
His citation said he had shown "inspirational leadership" following the explosion in Helmand Province.
He was one of 117 people named in the Operational Honours and Awards list.
They include four other soldiers based in Scotland - Majors Gary McGown, Stephen Dallard and Timothy Draper and Captain Ross Boyd - who all also serve with 2 Scots, based at Glencorse Barracks in Penicuik, Midlothian.
Lt Col David Orr Ewing, a Nato planning officer from the Royal Regiment of Scotland, currently based in Italy, was also honoured.
Sgt Vono, originally from Fiji, was on his way back to base after a patrol in the Nahr-e-Saraj district of Helmand, when an improvised explosive device (IED) was triggered by a Mastiff vehicle.
The Mastiff was behind Sgt Vono's vehicle and the blast caused serious injuries to all nine of the soldiers it was carrying.
Three of them were later confirmed as having been killed in action.
Scene of devastation
Amid the scene of devastation, Sgt Vono immediately assessed that there were multiple casualties and that urgent life-saving medical treatment was needed.
All communications with the Mastiff were lost and Sgt Vono had to react quickly while remaining alert to the threat of further explosions and small arms fire attacks, a known insurgent tactic.
He directed other soldiers to cover him as he led them down to what remained of the vehicle.
He climbed onto its roof, exposing himself to gun fire, in order to see inside before jumping down on to uncleared ground to gain access to the back doors.
He applied a tourniquet to the section commander's leg and then co-ordinated the removal of all nine casualties from the vehicle. Having run out of stretchers, Sgt Vono carried one of the casualties across more than 100m of uncleared ground.
Once all the casualties had been taken away from the scene, he exposed himself to further danger of attack when he led a team back to the vehicle to get equipment.
His award citation states: "In an incident of extreme pressure and chaos, Sgt Vono's gallant act demonstrated the highest standards of leadership, calmness and selfless commitment."
It continues: "His personal example, leadership and loyalty to his men exemplify the very best traditions of a senior non-commissioned officer in the British Army and for his actions he should be nationally recognised."
'Dangerous area'
Along with Sgt Vono, servicemen and women recognised in the latest honours included 36-year-old Maj Dallard.
He has been appointed OBE for his contribution to the operational tour in Afghanistan, when he was based at Patrol Base Ouellette, a "large, complex and dangerous area of operations that was one of the most contested and kinetic areas of central Helmand".
Capt Boyd, who was acting major at the time, was appointed MBE for taking on the role of company commander of the Nad-e-Ali district police advisory team at a "critical and highly complex" point of the Afghan campaign.
Maj McGowan, 49, was the company commander responsible for the Lashkar Gah training centre advisory team. He was awarded a Queen's Commendation for Valuable Service for his support to the operation.
Maj Draper, 36, was also awarded a Queen's Commendation for Valuable Service for overcoming hurdles in developing Helmand's police headquarters.
Also from the Royal Regiment of Scotland, Lt Col David Orr Ewing, who is currently working with Nato in Milan, picked up the same honour for his efforts in planning for operations in Afghanistan.
The awards were principally for actions during the period from March to September of last year, as part of Operation Herrick 18.