Barbara Dickson: I am a natural Roman Catholic
Scottish singing star Barbara Dickson has told BBC Scotland she is a "natural Catholic" despite being brought up in the Church of Scotland.
The 66-year-old singer, whose hits include "I know him so well" and "January, February", said she loved the tradition of the mass and the liturgy of Roman Catholic worship.
Dickson, who grew up in Dunfermline in Fife, said: "I don't really have anything to do with the Reformation."
Perhaps surprisingly the folk singer who found fame in Willy Russell musicals such as John, Paul, George, Ringo … and Bert and Blood Brothers, told Sunday Morning with Cathy Macdonald, she did not think guitars and microphones had any place in a church and preferred traditional music.
Dickson said she had always had God in her life.
She said: "If people don't have that they scratch their heads and say how could people believe that? Or how could people do that? And how could people go to church?"
Dickson, who now lives in Lincolnshire, says no-one has the time to contemplate bigger thoughts these days.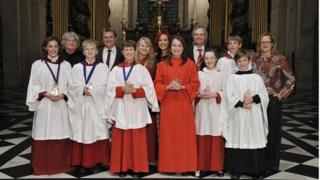 She says: "In Lincolnshire they say nobody leans over the gate anymore, you know, just having a look at what the countryside is offering.
"None of us have time to do that anymore, I suppose a walk in the Botanics is the nearest we'd get to it."
She says went to Sunday school in the Church of Scotland but was attracted to the traditions of the Catholic church.
"For me, I am a natural Roman Catholic. It's the continuity from St Paul to me that I like. I love the liturgy, I love the mass, I love the mystery, I love the transubstantiation, it's extremely powerful for me.
"I want to hear traditional church music, because to me it adds to the spirituality. I don't really want to be in a community centre. I want to take part in something that is truly profound."
Barbara was born in Dunfermline in 1947, into what she says was a working class family on a housing scheme.
She says: "I'm very proud of my background indeed, and my brother is a sculptor and I am a musician."
She wanted to be a teacher but failed her 11-plus exam, which she describes as a traumatic experience.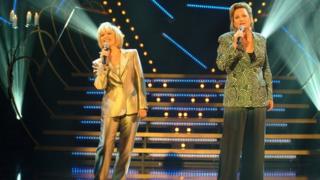 "It was absolutely horrendous and actually I still get feelings in my stomach about this now, the terrible humiliation of failing my 11-plus.
"I think when that happened to me it was always like fate.
"I said to myself 'right, I'm never going to get anywhere with my brains, I'm going to have to do something that makes me stand out in a different way'."
But despite her educational setbacks she has always had confidence in her singing ability.
She says: "If anyone said to me that I couldn't sing I'd punch their lights out. Because it's not true, and I could never be convinced of my musical ability not being sound."
Barbara found success on the folk club circuit in the late 1960s but it was her meeting with Liverpudlian playwright Willy Russell that changed the course of her career.
She appeared in his first hit musical John, Paul, George, Ringo … and Bert and her performance led to a recording contract and hit records, as well as providing backing vocals for Scottish singer-songwriter Gerry Rafferty on his worldwide hit albums City to City and and Night Owl.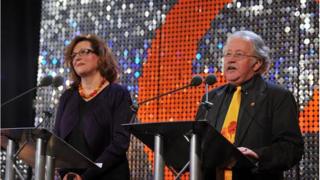 She says Rafferty, who died three years ago, influenced her "enormously" as a musician.
"I listened to his songs as a young woman and heard him first in the Scotia bar in Glasgow," she says.
"I couldn't believe the sensitivity of his voice, the fragility of him. And actually, without being too overly emotional, there was a great fragility in his character as well, and in his personality. And it took me a while to stop sort of shouting into the sky when he died."
In the early 1980s Russell invited Barbara to star in his new musical Blood Brothers, a role which won her a string of awards and which she has reprised on many occasions since.
She says she found the intensity of Blood Brothers "incredibly tiring and draining".
"At one point I keeled over, I felt most peculiar, and then in London I had to go off for about two weeks because I just sort of collapsed," she says.
"I suppose it was possibly like a kind of a little breakdown.
"It was all to do with pressure, it was all to do with being above the title, you know, 'Barbara Dickson in Blood Brothers', but nobody is invincible, but that's the thing I couldn't accept at that time'."
Looking back she says that the level of fame she had at the height of her career was "not very pleasant".
"I didn't enjoy that. I look at people like Madonna and Lady Gaga, really incredibly powerful, in control of their lives, I do not envy that at all because I've had a little of that."
This interview will be broadcast on Sunday 23 March at 07:06 on Sunday Morning With Cathy Macdonald.