Scottish government plans new school bus seatbelt law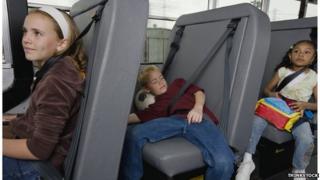 The Scottish government plans to introduce new laws to ensure seatbelts are provided on dedicated school buses.
Transport Minister Keith Brown has announced that Holyrood has been given approval "in principle" to take over responsibility for school bus safety.
The move follows a study which found that hundreds of school buses in Scotland had no seatbelts.
If powers are transferred from the UK government, seatbelts could be installed on school transport by 2018.
The Scottish government started looking into the costs and implications of introducing new school bus safety legislation in 2011.
A study commissioned by Transport Scotland found that among approximately 2,120 dedicated school transport buses in Scotland, about 570 had no fitted seatbelts of any kind.
Before the Scottish government can pass legislation on the issue, powers have to be transferred from the Westminster government.
Permission has been given "in principle" to bring bus safety under Holyrood's remit, but it would require changes to be made to the Scotland Act.
That process could be completed in the first half of next year, with the new legislation in force by 2018 at the earliest.
The new rules would apply only to dedicated school buses, not service buses which carry school pupils.
Mr Brown said the move had been announced now to give local councils and bus providers time to prepare for the changes.
Knock-on effect
He said: "The Scottish government and its road safety partners are committed to the outcome of safer road travel in Scotland for everyone.
"It is imperative that we do everything we can to protect Scotland's children, ensuring they are as safe as possible as they travel to and from school."
Transport Scotland's report on school transport was published last October following consultation with the Association of Transport Co-ordinators and the Convention of Scottish Local Authorities.
It noted that bus operators would need to invest in their fleets in order to meet the new requirements, which would have a knock-on effect on what councils have to pay for their services.
Local authorities also raised concerns that children often do not use seatbelts when they are provided, and noted that it was unrealistic to expect drivers to be able to enforce their use.
Seatbelts will become compulsory on school buses in Wales from October this year after legislation was passed in 2011.