Roderic Gillespie to leave SQA exams role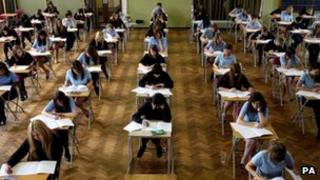 One of the architects of the new Scottish exams is to leave his job at the qualifications agency.
Roderic Gillespie is working his notice at the Scottish Qualifications Authority and will leave before the first National 5 results in the summer.
He led one of eight teams which helped develop the new qualifications.
Labour plans to raise his resignation at Holyrood on Tuesday but teaching unions have told BBC Scotland they are not concerned by his departure.
Mr Gillespie is leaving for a job in England.
An SQA spokesman said: "Roddy has built a strong team which will continue to work as part of that extensive directorate group to develop and deliver the new Curriculum for Excellence qualifications, and we will be working with him over the course of his 12-week notice period to ensure a smooth handover.
"It is flattering to see that other organisations recognise the skills and expertise of our people, and are looking to learn from what we are achieving. We wish Roddy well in his new role."
'Effective leadership'
Standard Grades are being replaced this year by the new National 4 and 5 qualifications. The National 4s do not involve a final exam but the first National 5 exams take place at the end of April.
Teaching unions have raised concerns about issues such as workload, bureaucracy and help and support and have warned of the pressure some staff have been under.
However, they have also stressed that teachers are committed to making sure the new qualifications are a success.
Both the EIS and SSTA unions told BBC Scotland they were not concerned about the fact that Mr Gillespie was leaving as he had found a better job.
But the timing has sparked questions in the Scottish Parliament.
Education Secretary Mike Russell is due to be quizzed on the matter by Labour education spokeswoman Kezia Dugdale on Tuesday.
'Unprecedented support'
Ms Dugdale said: "This revelation will come as a shock to Scotland's teachers and parents.
"Scottish Labour has been warning for months that Curriculum for Excellence has been without effective leadership.
"Teachers and head teachers have been warning that it has been rushed, botched and lacking resources.
"To now discover that the main architect of the exams is clearing off before they are sat, marked and reviewed only adds to the sense that this whole episode has been shambolic."
She added: "Rather than remain silent, Mike Russell must come to parliament and explain what is happening in the SQA and why, as these exams near, the concerns about their implementation continue to grow."
The Scottish government said Mr Gillespie's work had been focused on developing, not implementing, the exams, but that he would remain in post until after the current exams, before going on to a more senior role in another exams body.
A spokeswoman said: "The Scottish government and partners have provided an unprecedented level of support to help teachers and schools prepare for Curriculum for Excellence, which has been developed with considerable input from stakeholders with cross-party support, and the National Qualifications."