Should you be worried about air pollution?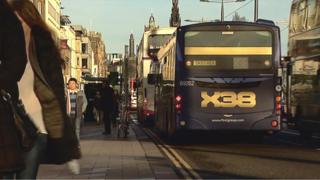 Air quality has improved dramatically in recent decades due to the reduction in the amount of coal being burnt in homes and industry.
But air pollution caused by cars, lorries and buses on our roads is still seen as a significant threat to public health.
What are the main causes of air pollution?
Fine Particles (PM10, PM2.5 and PM1)
Fine Particles can come from a wide range of materials but the most common source is from combustion engines, mainly road traffic.
Attention is increasingly focusing on fine particles, or particulate matter, which can be carried deep into the lungs, causing inflammation and increasing the risk of heart attack. Most monitoring sites record levels of PM10 , but the greatest threat to health is thought to come from the smallest particles, PM2.5 and below.
Sulphur Dioxide (SO2)
Coal-fired power stations are the biggest source of sulphur dioxide (SO2) in the UK. Asthmatics may experience health problems even when concentrations of sulphur dioxide have reached only moderate levels. The health effects of sulphur dioxide are thought to be more serious when levels of particulate matter are high.
Nitrogen oxides
Nitric Oxide comes from road transport and electricity generation. Once released into the atmosphere, it becomes nitrogen dioxide (NO2), which is harmful to health. Nitrogen dioxide lowers resistance to respiratory infections and is linked to a higher incidence of acute respiratory illness in children.
What is the greatest health risk?
Professor Dave Newby, from the University of Edinburgh and the British Heart Foundation, said most people associated air pollution with asthma or pneumonia or lung problems.
However, he said most people did not know heart disease was the leading cause of death attributed to or associated with air pollution.
Prof Newby said the particles released by diesel engines are so small they get deep down into the very deepest part of the lungs and even into the blood stream.
He said: "We think this can cause really bad effects on blood vessels, on the hardening of arteries and can even cause or precipitate heart attacks."
Who is more exposed to air pollution, cyclists or car drivers?
Prof Newby said if you measure the air pollution particles in a car or a bus it is often higher than outside because the air inlet is at ground level and is sucking in exhaust fumes and re-circulating them.
"If you measure the number of particles in the air they are about three or four times as high inside a car as outside," says Prof Newby.
However, a cyclist can actually breathe three or four times as hard so exposure might be about the same, says the professor.
When BBC Scotland Environment Correspondent David Miller wore an air pollution monitor for 48 hours he found the most severe results were recorded when he was walking by the side of the congested Princes Street in the centre of Edinburgh.
There were also spikes in his personal exposure when he walked through Waverley railway station and when he was stuck in traffic in his car.
Should cyclists wear a mask to prevent pollution?
"A mask would probably not help much because you have to have a very fine filter to catch the smallest particles," says Prof Newby.
"You can get those. There are some industrial respirators available but they are not very pleasant to wear and they can make breathing quite hard."