Scotland's GPs to receive 1% pay rise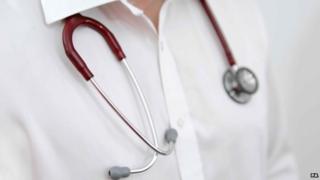 Doctors in Scotland are to get a 1% pay rise following £6m of investment in primary care, the Scottish government has confirmed..
The increase for GPs is in line with a deal for other NHS staff in Scotland, and will apply from April.
The announcement came a day after Health Secretary Alex Neil said other NHS staff would also receive a 1% rise.
The deal gives NHS workers in Scotland a more generous settlement than their counterparts in England.
It follows recommendations from the NHS pay review body and doctors' and dentists' pay review body.
Mr Neil said: "Yesterday, I confirmed that the Scottish government will ensure that our hard-working and dedicated NHS staff rightly receive the wage increases they were promised.
"I am pleased that today we are able to offer the same pay increase for GPs.
"In fact, the £6m investment in primary care goes beyond the recommendations of the review body on doctors and dentists' pay because we recognise the valuable role that GPs and their staff play in providing health care services at the heart of our communities to improve the public's health."
The Consumer Prices Index (CPI) measure of inflation is currently at 2%, and the NHS pay review body had recommended a 1% pay increase across the board.
The UK government decided not to follow the pay review body's recommendations.
UK Health Secretary Jeremy Hunt argued that implementing the pay deal in full in England was unaffordable and would have led to job losses.
He said: "It is not possible to maintain appropriate numbers of front line staff, give a general pay rise of 1% and pay for incremental progression."
The Scottish government said its new £6m investment would bring the total funding increase for primary care services in Scotland to £14m since 2013.