A biblical day at Holyrood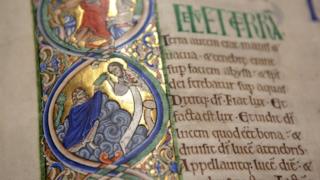 Sundry sources were cited at Holyrood. They could scarcely have been more diverse. Willie Rennie quoted the Bible. Alex Salmond quoted the Daily Record. Johann Lamont quoted herself.
As is only proper, let us begin with scripture. Mr Rennie, he of the Liberal Democrats, said that, as in the Book of Daniel, the first minister had been measured and found wanting - with regard to Scotland's balance sheet.
It's a wee while since I studied scripture but don't most versions of Daniel say something along the lines of "weighed in the balance and found wanting"? Perhaps that might have seemed too much like a reference to the FM's highly successful diet.
Either way, Mr Rennie assumed an ever so slightly superior demeanour as he quoted from the Bible. You know the look. It's meant to represent piety - but, unless carefully done, can look like sanctimony or indigestion.
He suggested further that Mr Salmond was wont to compare himself to Moses. Mr Salmond said he had no idea what his counterpart was talking about.
'Wee things'
Labour's Johann Lamont, meanwhile, drew upon a more contemporary source - herself. She recalled that she had been obliged to apologise for suggesting that various issues which might be available to an independent Scotland - such as employment policy - were "wee things".
Now, she said, Alex Salmond was at the same game in trying to play down the impact of the Gers figures (Government Expenditure and Revenue Scotland).
For 2012/13, these had shown a £4bn drop in oil revenue attributed to Scotland - while the net fiscal deficit north of the border was, against trend, higher than that for the UK as a whole.
Again and again and, indeed, again, Ms Lamont noted that £4bn was equivalent to the entire schools budget for Scotland. How, she inquired again - you get the concept - would an independent Scotland cope with such a drop in a single year? Tax rises? Budget cuts?
The exchanges were iterative. Even as Ms Lamont repeated her challenge, Mr Salmond repeatedly drew attention to Scotland's relative strength over a five year or indeed 30 year period. Scotland, he said, could have been £8bn better off over five years if in sole charge of her resources.
That cash, he argued, could have been used to boost investment or to reduce borrowing in preparation for a challenging year in the North Sea.
'From Moses to chancer'
In a way, Mr Salmond resorted to religion too - although his tone owed less to Daniel and more to the Rev IM Jolly. His voiced dripped satire as he contested both Ms Lamont and Ruth Davidson of the Tories.
And did they bow down and accept his argument that Scotland could and would be a successful independent nation? They did not. Indeed, Ms Davidson called him "a chancer". From Moses to a chancer in a single session. Welcome to Scotland.
In the chair, Tricia Marwick looked a little uncomfortable at this exchange. Was it acceptable to label a fellow parliamentarian in such a fashion? Evidently yes, in that she did not intervene.
In any event, Mr Salmond was undeterred. Ms Davidson had argued that the boon of North Sea oil and gas was made available to Scotland through the beneficence and wise interventions of the UK government.
The IM Jolly voice was back instantly as Mr Salmond suggested that matters were otherwise: that Scotland's North Sea riches had propped up the UKG for 30 years. According to his opponents, he said, oil was a huge advantage for the UK but an insupportable burden for Scotland.
At which point, the third citation emerged once more. Alex Salmond referred to a poll in the Daily Record which had suggested that the Yes camp might be narrowing the gap behind their rivals in the referendum.
I understand that, with regard to this poll, Labour MSPs are also decidedly exercised by the apparent lead enjoyed by the SNP over their party in voting intention. Labour views Scottish politics as a continuum - the referendum, the Westminster election 2015, the Holyrood election 2016.
Behind the scenes, the Labour talk is that the polls may be currently distorted by the prism of the referendum: that the SNP may fall back if the referendum is lost, that Labour might have more opportunity in those circumstances to advance issues like housing and jobs in an electoral context.
Equally, though, it is possible that the huge community campaign effort by the SNP as part of the wider Yes Scotland campaign might pay longer dividends in terms of enhancing the party's support when voters are again choosing an MSP.
The most immediate target, of course, is the referendum. That is true for both sides and all parties. That does not mean that other contests are entirely ignored.