Apprenticeship numbers on target, Audit Scotland says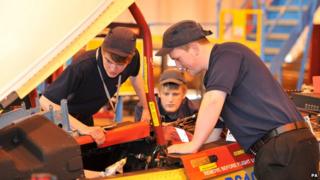 More than 25,000 apprentices have started their training in each of the past two years, according to the latest figures.
An Audit Scotland report welcomed findings that the Scottish government was meeting its target on apprentices.
Skills Development Scotland was managing the £75m programme well, added the report.
But it also warned analysis was needed on whether apprenticeships provided good value for money in the long term.
Minister for Youth Employment Angela Constance said the report highlighted the "substantial achievements" of the modern apprenticeship programme.
The report noted that the number of apprentices had increased despite difficult circumstances in the labour market over the past four years, with spending on the policy increasing by a quarter during that time.
There had also been a significant increase in the number of female apprentices, with women making up 43% of new recruits to the scheme in 2012-13.
Three quarters of the funding, said Audit Scotland, was being spent on "expensive, higher level" training, which would take longer to complete and could cost more in future.
Value for money
The report also raised concerns about whether the long-term value of the programme was being adequately measured.
It said the Scottish government's "existing performance measures do not focus on long-term outcomes, such as sustainable employment".
It added: "More specific long-term aims and objectives, along with more information about their benefits and appropriate performance measures, are needed to assess value for money."
Auditor General for Scotland Caroline Gardner said national training body Skills Development Scotland (SDS), which runs the programme for the Scottish government, had "done well in challenging economic circumstances".
"Modern apprenticeships can help create employment opportunities and meet the immediate needs of employers," she added.
"The development of better outcomes measures would help the Scottish government to understand the long-term benefits of apprenticeships.
"It would also allow funding to be directed to those apprenticeships which offer the best value for individuals, employers and the economy."
Minister for Youth Employment Angela Constance said the Scottish government was exceeding its targets, and that the young people being helped were training and working to a high level.
She added: "The work of the Wood Commission is setting out a clear vision for the future of modern apprenticeships, which will continue to meet our aims and ambitions for Scotland.
"This report confirms that we are building from strong foundations."
Damien Yeates, chief executive of SDS, welcomed the Audit Scotland report, saying apprenticeships encouraged sustainable growth.
He added: "It highlights the achievement of delivering a 143% increase in the number of new apprenticeships while funding has increased by only 24% in real terms.
"We will take forward its recommendations, including the endorsement of our planned changes to contribution rates that better reflect the cost of training provision."