Scottish independence: balancing the books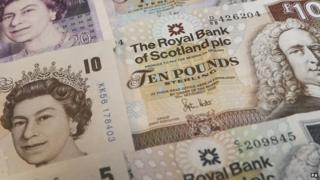 Beware: incoming statistics. GERS is back.
Government Expenditure and Revenue Scotland isn't the most riveting read, but it matters a lot in the independence debate.
It is the assessment of Scottish government statisticians of how much Scotland raises in tax, and how much is spent by government on Scots.
This is the 20th set of these annual figures. They were first devised as a means by which Conservative ministers could demonstrate how generously Scotland was treated by Whitehall.
While Scottish spending was higher per head than the rest of the UK, oil revenues weren't providing much of an answer. Between 1984-85 and 1991-92, they had fallen from £12bn to less than £1bn.
Receipts have been a lot healthier of late. And ministers in charge at St Andrew's House have been using the GERS figures for the opposite purpose to the one for which their Tory predecessors intended them.
Today's Conservative ministers are now in the Treasury in London, and pre-empted the publication of GERS this week by punching holes in the Scottish government's projections of the public finances. The Treasury is pointing out that these are already proving to be rather optimistic about oil revenues.
Deficit
The GERS figures have shown Scotland to be in deficit. No surprise there. But it's a bigger deficit than expected, and bigger than the UK as a whole. That latter point matters a lot politically.
There are different measures, but arguably the best one is to include current and capital spending, and a share of offshore oil and gas revenue from under Scottish waters. That's the closest we're going to get, ahead of the 18 September referendum day, to a picture of the strength of Scotland's public finances.
And the 2012-13 figures show the deficit was more than £12bn, on expenditure of £65bn. The share of national output, or gross domestic product (GDP) rose from 5.8% the previous year (a number that's been revised upwards) to 8.3% in 2012-13. The comparable UK figure is 7.3%, down from 7.6% the previous year.
The latest year for GERS saw hardly any cut in the UK government's deficit, though the economy grew a bit, so its share of GDP was down. It wasn't helped by a reduction in offshore oil and gas receipts from UK waters from £11.25bn the previous year to £6.6bn.
In that previous year, 2011-12, the tax Scotland contributed, including Scottish oil and gas, showed it was more than paying its way in the UK, and could justify roughly 10% higher spending per head.
After such a sharp one-year cut in oil and gas revenue, the tax take per head in Scotland remains higher than the UK. But it's harder to make the case that Scotland is punching above its weight.
Fair share
Much of this is based on estimates. How much is spent per Scot by the Ministry of Defence in London? How much on the Foreign Office's services around the world? We can only make informed guesses, or equalise across the UK.
How much income tax is paid by Scots for work in Scotland, when there's nowhere in your tax form that says where you earned it? How much corporation tax can be attributed by Britain-wide firms to their activities in Scotland?
We don't know. The statisticians have to guess. Only on things like stamp duty or council tax, because these are property based, can you tell precisely how much tax is raised and where.
So in two decades, the statisticians have been honing their estimating skills. And having started amid much controversy, they've achieved a reasonable level of political consensus.
There's now a complication though. The GERS assessment has long included an estimate of the UK tax take from oil and gas that comes from Scottish waters. This has come from Professor Alex Kemp and his team at Aberdeen University, as the only ones to have a model which takes the maritime boundary into account.
In the 2011-12 figures, it took his estimate of a 94% share for Scotland, though this week's figures have revised that year down to 88%. The share it's estimating for 2012-13 has fallen further to 84% of the UK total. That translates to £5.6bn (out of £6.6bn), down from £10bn (out of £11.3bn) the previous year.
However, HM Revenue and Customs has become involved, with 'experimental' statistics suggesting a lower Scottish share of some taxes.
It suggested much lower corporation tax paid in Scotland, £438m lower than the 2011-12 GERS figures of £2.538bn.
Even more significant, HMRC has devised its own way of assessing the profits taken from different oil fields around Britain.
HMRC's experimental estimate of profits and tax take was at 83% for 2011-12, and at 79% Scottish for last year. It seems it's still too experimental for Scottish government statisticians to use that instead of the Aberdeen University model, while the Scottish government itself is building up a model of the offshore oil and gas sector, which may give us yet more estimates.
'Sixth wealthiest'
As if that weren't enough statistics for you, I offer you another announcement which was made ahead of the GERS numbers.
John Swinney welcomed new figures from the OECD club of developed economies that point to Scotland's being "the 14th wealthiest nation in the world", positioned on a table between Belgium and Finland, with Luxembourg and Norway atop the table and Ireland at seven.
Using data from 2012, this compares with the UK, ranked 18th (between France and Japan) out of 34 countries included. You can see why that's quite a useful assessment, from a Yes campaigner's point of view.
Four points are worth making. One is that the table is not a measure of wealth, but of income, as measured by GDP per head. Both are nice to have, but they are different.
Second, this takes no account of how much of that income is in profits from oil and gas production which disappear out of the country. In Scotland's case, that makes a significant difference.
Third, the Scottish ranking is not from the OECD, but from Scottish statisticians using data that helps make the comparison.
Fourth (or is it fourteenth?) we were told until today that Scotland could be the sixth richest nation in the world, quoting OECD figures. Yet by being in 14th place, it's retained its position, rather than suffering a bit of a fall.
How can this be? Methodology, of course. The OECD has re-run its figures taking into account different price levels across currencies, which helps makes economies comparable. And it's re-run those figures for 2011 too.
Productive Aberdeen
I haven't finished with statistics just yet. Oh no. The Officer for National Statistics on Tuesday published an interesting look at the way productivity stacks up around the country.
After Evan Davis' BBC TV documentaries, Mind the Gap: London versus the Rest, we should be more aware of what a productivity dynamo there is on the Thames. It's well worth a watch on iPlayer, if you like this kind of thing.
He contrasted London and the south-east with the north of England and the case for ensuring the growth of the big northern English cities.
In terms of productivity, the part of Britain that comes closest to inner London - though, admittedly, it's not that close - is the north-east of Scotland. That oil and gas factor shows it's as productive as Berkshire, Buckinghamshire and Oxfordshire.
Broken down into 'sub-regions', Aberdeen city and Aberdeenshire together comprise the sixth most productive area per hour worked, while Edinburgh was ninth.
At the wrong end of the table, rural areas dominate. Sorry to be the bearer of bad news to beautiful places, but within the UK's least productive 10 sub-regions are Orkney, the Scottish Borders and Caithness and Sutherland. It could be worse. You could be in Powys.