Scottish independence: Brown outlines 'more powers' offer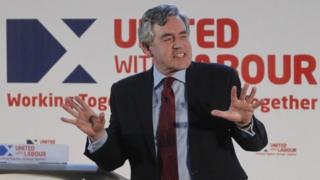 We learned rather a lot today from Gordon Brown. We learned that he can still deliver a detailed, thoughtful speech ad lib while striding back and forward across the platform, restless like a caged but powerful lion.
We learned what I suspect will be the framework of the Labour offer on more powers for Holyrood when the party's commission reports next week, prior to conference.
And we learned that this is viewed primarily as a Labour offer - for a Labour UK government to implement. It is, in that respect, competing with ideas which may emerge and indeed are emerging from other parties.
Written constitution
Mr Brown delivered his speech in a church hall in Glasgow's East End, enabling him to recall a few gags from his days as a son of the Manse in the Dear Green Place.
But his approach was decidedly serious. The UK, he said, required to be effectively recalibrated, shedding the lingering image of solitary centralism.
That meant, ultimately, a written constitution which would set out the role of the UK in common defence, security and, importantly, welfare.
At the same time, the role of Holyrood would be entrenched - preventing its abolition and preventing the countermanding of its decisions in devolved matters. (With that, I was instantly cast back to the earliest days of the Constitutional Convention when such issues were eagerly and endlessly explored, only to be shelved.)
Devolve more powers, he said, in areas like employment. Devolve more tax control, he said, to enhance the responsibility of MSPs.
But what? Not VAT - the EU says no. Not corporation tax - Labour says no; it would, they argue, simply encourage companies to cross internal borders to dodge tax, prompting a "race to the bottom" in tax competition.
So income tax it is. But not the whole of income tax - as the interim report of the Labour commission was "minded" to recommend. Instead, a proportion.
The Brown thesis is that the UK should be responsible for what he called covenanted spending - on such matters as pensions and benefits. Those would be standard throughout the UK and would be funded by shared resources.
Holyrood would be able to vary 15p worth of income tax - up from the current 3p and up from the 10p which will be in effect from next year at the culmination of the Calman process.
Cross-party co-operation
As to redistribution, Mr Brown envisages the use of property taxation - the council tax plus stamp duty land tax. He floats the notion, however, of a power for the Scottish Parliament to achieve "fairness" via the upper tax rates.
What could that mean? I understand it could refer to the point raised in Holyrood last week by Johann Lamont. If Westminster pegs back the upper rate in a fashion Scotland dislikes, then there might perhaps be a power to reverse that in certain circumstances.
Labour's commission is still said to be working on that. Again, however, I think this was the broad picture we saw today.
And what of the suggestion of cross-party co-operation advanced by Sir Menzies Campbell of the Liberal Democrats? He wants all three pro Union parties to sign up to a common approach: to enhanced powers which would be implemented in 2015, regardless of who wins the UK General election.
Co-operation I think there will be. Perhaps more than is currently apparent. But remember the competing impulses. Firstly, the parties do not agree: the LibDems want to devolve more tax clout than Labour. Secondly, there is relatively little time: the impetus to focus upon the referendum contest is overwhelming.
Thirdly, that UK General Election. Might it not be tempting for the parties to compete with each other in their offer to Scotland on the constitution?