Zero hours concern over rail safety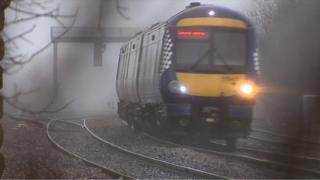 Claims that the introduction of zero hours contracts could affect safety on Britain's railways are a cause for concern, an MP has said.
Ian Davidson, chairman of the Scottish Affairs Select Committee, was speaking after claims experienced maintenance workers were leaving the rail industry.
It was said they left rather than accept contracts which do not guarantee work or pay.
One rail worker said he feared the consequences of inexperienced staff.
Gary Jones, a specialist welder, who refused to accept a zero hours hours contract from a previous employer, took his case all the way to the Court of Session in Edinburgh and won.
He told BBC Scotland: "Zero hours contracts are forcing people to move away from the industry because there's no guarantee of an income.
"You have a contract which makes you beholden to that company, but they're not obliged to pay you any money if there's no work available. That's no way to live."
Mr Jones fears the loss of talent, as experienced workers find better-paid, more secure jobs elsewhere, means safety in the railway industry is being put at risk.
He said: "The more people leave, the more you worry about who's left to maintain the railway.
"It's a very dangerous environment for the employees on the railway and for the people that are on the trains.
"If we don't do our job right, a train could be on its side in a field."
Mr Davidson, Labour MP for Glasgow South West, said: "Track maintenance is increasingly moving towards casualisation. As far as we can see, that does mean a lot of people are walking away from the industry because of issues of uncertainty.
"There are issues about health and safety, both on site and also in general, because they are losing a skilled workforce.
"All of those things give us considerable cause for concern."
Legal action
Network Rail insisted its network was among the safest and best-maintained in Europe, but said it was reviewing the use of zero hours contracts in the industry.
In a statement, it said: "We are very much aware of the concerns around 'zero hours' contracts. While Network Rail itself does not use zero hours contracts, we know that a number of agencies who supply labour to our suppliers do.
"Over the past year, we've been undertaking a thorough review of our own contracting arrangements and how they influence behaviour throughout the supply chain.
"This review is still being carried out with a view that, in 2014, Network Rail will implement a new approach to how it uses labour-only agencies which will positively influence the way that the wider industry contracts with its workers.
"It is important to us that we improve the professionalism of our entire workforce, not simply our own employees, to secure the future of the whole rail industry."
Meanwhile, the law firm which represented Mr Jones during his successful legal action said companies considering moving employees on to zero hours contracts should take heed of the Court of Session's ruling in the case.
David Martin of Thompsons Solicitors said: "Employers are often seeking flexibility in the workforce and that's understandable from the employers' point of view.
"What this judgement says is that you cannot achieve that by moving your permanent staff on to zero hours contracts without going through very, very clear consultation."