Scottish teachers' pay deal formally agreed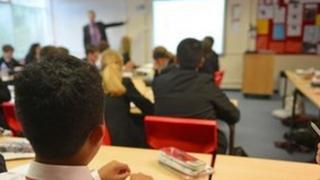 Teachers are to get a pay rise after a new deal on wages and conditions was formally agreed.
The deal includes a 1% pay rise, back-dated to cover 2013-14 and then for 2014-15, and improvements to the way supply teachers are paid.
The Scottish government described it as a "fair agreement in the current financial climate".
The offer was overwhelmingly accepted by members of Scotland's largest teachers' union, the EIS, in a ballot.
The deal was agreed by the Scottish Negotiating Committee for Teachers - the joint body that includes unions, the government and the council body Cosla.
The agreement may also help ease problems finding supply teachers. Many councils say they have had difficulty finding enough of them - especially in rural areas and in some secondary subjects.
The key points of the deal include:
a two-year pay deal, with a 1% pay increase for 2013-14 and 1% increase for 2014-15
paying supply teachers at a higher rate after two days from 1 April
establishing a working group to help find practical answers to common issues with the availability of supply teachers
Education Secretary Mike Russell said: "It is good news that agreement has been reached on a pay increase for teachers across Scotland who are doing a great job and making a real difference to the education and future of our young people.
"These have been long negotiations but the Scottish government has been committed throughout to working positively to secure a positive outcome.
"This is a fair agreement in the current financial climate and demonstrates the benefits of close partnership working."
Cosla HR spokesperson Councillor Billy Hendry said: "We welcome the overwhelming acceptance of this pay deal for teachers and the certainty this gives for industrial relations at a critical time for Scottish education."
EIS salaries convener Tom Tracey said: "This has been a difficult set of negotiations but we are pleased to conclude the discussions with an agreement which improves the situation on short-term supply and secures a pay award for all teachers."