International Women's Day: Women still face 'significant obstacles'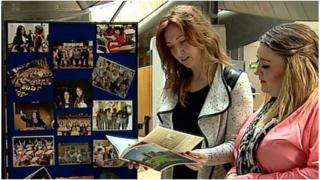 Women face "significant" barriers in education, employment and public life, organisers of an International Women's Day event in Scotland have said.
The Scottish Parliament is hosting a reception for 380 women to discuss issues ranging from childcare and education to support from employers.
The theme for this year's event is "What Women Want, What Women Need".
Speakers include Deputy First Minister Nicola Sturgeon and Scottish comedian Susan Morrison.
'Positive contribution'
Scottish Women's Convention chairwoman Agnes Tolmie said: "There is a feeling that in many ways, women 'have it all'. The reality is far from that ideal.
"Significant obstacles still exist across a number of areas such as education, employment and representation in political and public life.
"One of the most important ways of breaking down these barriers is to listen to women and take on board what they really want and what they really need.
"This will not only improve their lives, but the lives of their families and communities as a whole."
The SWC is involved in bringing women together from different backgrounds and ages from throughout the country.
Photograph exhibition
Holyrood's Deputy Presiding Officer Elaine Smith spoke of her pride in being associated with the convention and helping promote its values.
The MSP said: "I was proud to stand alongside so many women today who are contributing so positively to a modern Scotland.
"The event has allowed us to gather together and explore the issues that matter to us. The space to do this here at Holyrood is indeed part of what women want and need."
At the University of Edinburgh, Olympic rower Grainger joined Sports Minister Shona Robison and vice chairwoman of the Glasgow 2014 Commonwealth Games, Louise Martin to mark the event.
They visited an outdoor exhibition at the university's Old College Quad to view an exhibition of photographs entitled Inspiring Women, Inspiring Change.
The pictures will remain on display until the end of this month.