Five arrested in Scotland over disorder at England match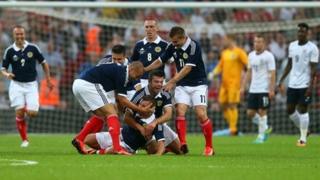 Police have arrested five men in Scotland over a disturbance before the national football team's match against England at Wembley last year.
The Met said officers from its Public Order Investigations Team made two arrests in Glasgow, two in Dundee and another in Bonnybridge, near Falkirk.
All five men were bailed pending further inquiries.
The arrests relate to a fight in Maiden Lane, Covent Garden, involving supporters of both sides.
Officers from Operation Arrowtip, which investigates football related disorder, made the arrests on Wednesday and Thursday.
The men, who have been held on suspicion of violent disorder, are all aged between 19 and 27.
Supt Andy Barnes, who leads Operation Arrowtip, said: "Violence amongst supporters has no place in football, be it before, during or after a match.
"The vast majority of supporters who attended last year's England vs Scotland match behaved in the right spirit and this was an isolated incident.
"These arrests show that anyone who chooses to engage in violence will be pursued by officers and arrested."
England twice came from behind to defeat Scotland 3-2 in the match on 14 August.