Mairi Hedderwick: I am Katie Morag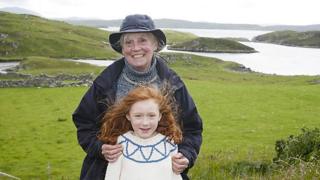 Mairi Hedderwick did not grow up on a Scottish island, she does not have red hair and her family was very different to the one depicted in the Katie Morag books. But the 74-year-old writer and illustrator says the ever-popular Katie Morag stories are based on her.
From an early age, Mairi Hedderwick says she would look out from her home in Gourock across the Firth of Clyde to Dunoon and the hills of the Cowal peninsula.
"I knew I wanted to go there, across the water and over the hills and far away," she says.
But as a child, the young Mairi knew nothing of the sort of island life that would much later inspire the success of her best-selling children's stories, which have recently been turned into a TV series.
In fact, Hedderwick says her introduction to Scotland's islands came through that most English of children's authors, Enid Blyton.
She says: "In one book called the Island of Adventure she describes the sea and the sea birds and I saw for the first time the Hebrides, through the medium of Enid Blyton."
Hedderwick, who says she grew up as an only child in a house with no children's books, was just 12 when her father died, shattering her cosy family unit.
Being sent to a private school also brought confusion and tension to the young Mairi's life because her relatives were all "straight-forward" working class people and she was educated to be "this horrible snobby" girl.
Her talent for art took Hedderwick to Edinburgh art school, an experience she describes as a "sudden freedom".
She told the BBC's Desert Island Discs: "It was totally classless for the first time in my life. You had room to develop your personality."
It was while at art school that she first went to Coll, a tiny island measuring just 12 miles by three miles in the Inner Hebrides, off Scotland's west coast.
She answered an advert to be "mother's help" to the laird of the island.
It turned out the laird was a "very hard-worked farmer". His home had no electricity and drinking water was drawn from a well.
Hedderwick says working on Coll "wasn't hard work because it was joyous".
And she says that although the island has changed much over the years her memories from that time in the late 50s are very much present when she is portraying Katie Morag's fictional island of Struay.
After graduation Mairi married Roy Hedderwick and in 1965 they returned to Coll to live the "hippy dropout" lifestyle with six breeding cows and 72 draft ewes.
She describes it as an "idyll".
"I would still, if I could, go back to that way of life because it's got a purpose to it, living that way," she says.
However, with no secondary school on the island and a growing family, Hedderwick had to give up her idyll and move back to the mainland.
She had been illustrating for other writers for several years and her own children were teenagers when she was persuaded to write and illustrate her own books, with the first Katie Morag story coming out in 1984.
Mairi says: "The essence of the Katie Morag books is to do with a time in my life and my family's life which was a magic time on the island of Coll, bringing up small children. I mean, where better?"
Hedderwick says Katie Morag is her as an adult "exploring morality through a children's book".
"She is me because I always wanted red hair as a little girl.
"That jumper is just a shorthand for the Fair Isle jumpers all little girls of my generation wore.
"But she actually has not got a kilt, she has a skirt because that was my daughter. She had a little tube skirt which I made for her."
The illustrations for the Katie Morag stories are full of tiny details about the family and its island life.
Mairi says she had often found the books she read for her own children "boring".
"The illustrations were very beautiful on the page but actually they did not tell you much," she says.
"Also I knew that the most important thing was that story-telling was a shared activity at the end of the day that the adult can enjoy as well.
"So if you look in the Katie Morag books you will see lots of little adult jokes."
Sometimes the adult detail can cause problems, with two Glasgow libraries refusing to put one of the books on their shelves because it had images of breast-feeding.
Two of the main characters in the Katie Morag tales are Granny Mainland, who is terribly proper and wears pointy shoes and a nice necklace, and Granny Island, who drives a tractor and wears overall.
Hedderwick says Granny Island had originally been a grandfather but the American co-publishers of the early books were concerned about some intimate scenes such as the young Katie sitting on his knee or sleeping in his bed.
Not to be deterred Hedderwick hit on a solution.
"That was when I had done a lot of the artwork so I said "right" and I changed the head of the grandfather with his grey overalls and his grey Fergie tractor and made it into a woman's head."
Hedderwick, who says she is in favour of Scottish independence on cultural grounds, has returned to live on Coll a number of times over the decades.
She says she decided to leave last time because the success of Katie Morag had led to people coming to her door to chat to her or to them sitting in her garden to eat their sandwiches.
Hedderwick has now become Granny Mainland, living near her grand-children in the north of Scotland.
However, she has other grand-children who are living the island dream that she had as a child.
She says: "The very thing that I was desperately wanting to be part of as a young woman, down a second generation it has taken and they are actually islanders."