Scottish government 'not told' about Dounreay radiation problem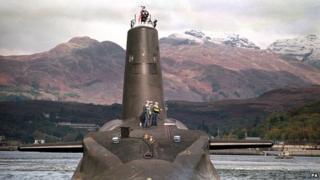 The Scottish government has criticised the MoD for not alerting it to a radiation problem at the Dounreay nuclear submarine test reactor.
It came after UK Defence Secretary Philip Hammond revealed that low levels of radioactivity were found in the test reactor's cooling waters two years ago.
He said no leak had occurred and there were no safety implications.
Scottish Veterans Minister Keith Brown said it was unacceptable the Scottish government had not been told until now.
As a result of the radioactive discovery at the Vulcan Naval Reactor Test Establishment at Dounreay, the nuclear submarine HMS Vanguard is to be refuelled with a new nuclear core at a cost of £120m.
The MoD has said that the Scottish Environment Protection Agency (Sepa) and the defence nuclear inspectorate had been kept informed since October 2012. The radioactive discharge had been discovered in January of the same year.
But Mr Brown said Sepa had been asked "not to make this information more widely known for security reasons".
He added: "It is totally unacceptable that for almost two years the UK government failed to notify Scottish Ministers on such an important issue.
"The Ministry of Defence, who are responsible for the regulation of operations and safety at Vulcan, informed Sepa of this situation in the summer of 2012 and requested that they were not to make this information more widely known for security reasons.
"Sepa's role is to highlight potential for adverse wider environmental impact and I can reassure the public that they have not identified any, but will continue to closely monitor the situation.
"UK Defence Minister Philip Dunne eventually notified (Scottish Environment Secretary) Richard Lochhead of the situation shortly in advance of the UK government's parliamentary statement today.
"There is no excuse for UK Ministers not picking up the phone and alerting us to this situation two years ago and I have today written to Philip Hammond seeking an early meeting to ensure such disrespect is never shown again."
'No environmental impact'
The Scottish government has pledged to remove nuclear weapons from Scotland if the country votes for independence in September's referendum.
Scottish Green Party co-convener Patrick Harvie said the incident was "just the latest example of Scotland being treated as an after-thought by Westminster".
But a spokesman for Sepa said it had not believed there was any need to inform the Scottish government about the radioactive discharges as they were "well below the authorised limits set for the site, and there was no environmental impact".
The spokesman also confirmed: "Following an increase of radioactive gases in the Vulcan reactor in 2012, the MoD requested that the issue be kept on a strict need to know basis for security reasons."
He added: "Sepa has monitored for radioactive discharges at the Vulcan Naval Reactor since 1996 in order to assess the impact on the local environment.
"To date, Sepa is satisfied that discharges from the reactor have remained well below the authorised limit allowed under an agreement between the Ministry of Defence and Sepa.
"That limit is set at less than one millionth of the public dose limit. Currently no impact on the local environment has been observed as a result of these discharges and monitoring work will continue at the facility until it is fully decommissioned, to ensure any future emissions remain low."
However, an MoD source has told BBC Scotland that, although Sepa had been told the issue should be kept on a "need to know basis" for security reasons, those guidelines did not extend to ministers and Sepa knew that.
The source also confirmed Sepa's statement that the reason why ministers in the Scottish government had not been informed by the agency was because radioactive discharges were well below authorised limits and there was no environmental impact.
Speaking in the Commons earlier on Thursday, Mr Hammond said the Vulcan Naval Reactor Test Establishment at Dounreay ran at higher levels of intensity than those on Britain's fleet of nuclear submarines and was designed to pre-empt any similar problems with the reactors on board those vessels.
'National importance'
The defence secretary said: "These low levels of radioactivity are a normal product of a nuclear reaction that takes place within the fuel but they would not normally enter the cooling water.
"This water is contained within the sealed reactor circuit and I can reassure the House there has been no detectable radiation leak from that sealed circuit.
"Indeed, against the International Atomic Energy Agency's measurement scale for nuclear-related events this issue is classed Level 0, described as 'below scale - no safety significance'."
The refuelling of HMS Vanguard will take place during its next scheduled "deep maintenance period", due to last three and a half years from 2015.
Mr Hammond said: "This is the responsible option: replacing the core on a precautionary basis at the next opportunity, rather than waiting to see if the core needs to be replaced at a later date which would mean returning Vanguard for a period of unscheduled deep maintenance, potentially putting at risk the resilience of our ballistic missile submarine operations."
The minister said a decision on refuelling another submarine, HMS Victorious, would not need to be taken until 2018.
New submarines for the Trident replacement programme, known as the Successor submarines, will not be affected by the problem, he added.
Labour has also criticised the UK government for not announcing the information earlier, calling it a matter of "national importance".
Shadow defence secretary Vernon Coaker said the government should have told the Commons earlier about the fault.
He added: "There must be public confidence in the government to be open and transparent on these matters.
"A fault, however small, that develops in a nuclear reactor is something that the British people and this House should have been told about. This is an issue of national security and national importance."