Pension contributions 'cash grab' angers Scottish police officers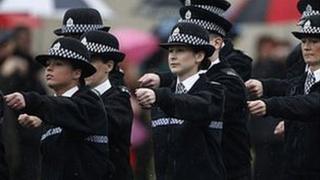 Scottish police officers have said they face additional increases to their pension contributions because of cuts in police numbers in England and Wales.
From April, they will pay an average of 14.25% of their salary - one of the highest rates in the public sector.
The Scottish Police Federation (SPF) called it a "naked cash grab".
It said Scottish officers were being punished because there were fewer police south of the border contributing to the pension scheme.
It had previously been announced that contributions would rise from the current level of 13.5%.
The Scottish Public Pensions Authority (SPPA) has now announced that, on UK Treasury orders, the figure will increase to 14.25%.
Brian Docherty, chairman of the SPF, which represents all police officers up to the rank of chief inspector, said: "These contribution increases are yet another naked cash grab from hard-working police officers and have absolutely nothing to do with the affordability of the police pension schemes."
He added: "This is as a direct consequence of falling police numbers in England and Wales returning a lower financial yield than that anticipated at the time the original proposals were set out."
Financially penalised
Government figures showed there were 17,258 police in Scotland at the end of December, 2013, a drop of 1% over the previous 12 months.
But ministers said the figure still represented an increase of 1,024 over the number in post when the SNP government came to power in 2007.
In contrast, SPF said around 14,500 officers had been shed by police forces in England and Wales.
The Police National Board, which represents all officers in Scotland including the most senior ranks, has complained to the SPPA.
Its secretary, Calum Steele, wrote: "Quite simply this is scandalous, with serving police officers being financially penalised for the massive loss in their numbers.
"If indeed this is the case, there is absolutely no justification for this additional squeeze being applied in Scotland where our police numbers have remained healthy over the corresponding period."
The Scottish government said it shared public sector workers' concerns about the level and reasons for increases in their pension contributions and opposed them being made in this way at this time.
But a spokesperson said: "With considerable reluctance, the Scottish government has decided that increases to fire fighter and police officer pension contributions must be made to reflect the harsh financial realities Scotland faces as a result of the UK government's austerity agenda."