New school meal plan aims to 'inspire' healthy eating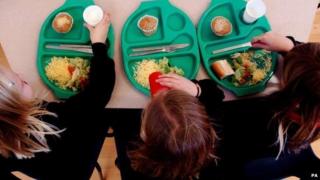 New guidance which aims to teach children healthy eating habits has been published by the Scottish government.
It aims to ensure schools instil children with healthy eating habits into children which will last through adulthood.
Among the recommendations are that school meals should include fresh local produce with menus that "inspire" children to eat healthily.
The guidance was produced by an expert working group in tandem with councils.
Among the measures outlined in the report are:
All food served in schools should promote healthy eating
School meals should champion fresh, local, seasonable produce
Caterers and teaching staff should collaborate on food education to improve the diets of children and young people
Everyone involved in school food provision should understand the need for inspiring menus which take into account nutrition, health and environmental impacts
Feedback from children and young people should inform school food and education
All staff involved in school food provision and food education should have the opportunity to undertake professional training in food, health, and the environment.
The report was welcomed by Education Secretary Michael Russell, who said: "The Scottish government is committed to providing high quality school meals and this new guidance sets out how we will go about achieving this.
"We want to give our children the best start in life and how they eat at school forms a crucial part of a child's development, including how well they learn.
"Today's guidance strengthens our approach at a national level ahead, including taking into account the views of children themselves, ahead of every P1-3 pupil being offered a school meal for free every day, which is also aimed at raising attainment."
Health and wellbeing
Cosla, which represents local authorities, said schools had already made improvements to catering provision.
Spokesman, Councillor Douglas Chapman, said: "It is clear that children and young people in Scottish schools are now more aware of the connections between the food they eat and how that food supports their learning, health and wellbeing.
"The role of both teachers and school catering staff in supporting a better understanding of food education and provision will provide a positive contribution and encouragement to eat school meals, rather than resort to fast food alternatives outwith the control of schools."
Larry Flanagan, general secretary of the teaching union EIS, said: "The EIS was proud to play a role, together with our partner organisations working with the Child Poverty Action Group, in the successful campaign for free school meals for all children in primary one to three.
"The delivery of this commitment will have a strong beneficial impact for young children in the early years of primary school.
"Ensuring that all young children, no matter what their family circumstances, can enjoy a healthy and nutritious meal during the school day will bring real and lasting benefits for children's health and can also aid pupils' concentration and their ability to learn."