EIS backs improved pay and conditions deal for teachers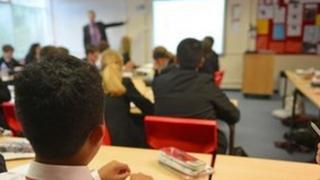 Members of Scotland's largest teaching union have overwhelmingly backed a new deal on pay and conditions.
The package includes a 1% pay rise this year and next and improvements to pay and conditions for supply teachers.
Members of the Educational Institute of Scotland (EIS) voted to back the deal by a 9-1 margin.
The EIS represents more than 80% of Scotland's teachers, including most nursery and primary teachers and the majority of secondary teachers.
The revised offer on pay and conditions was negotiated through the Scottish Negotiating Committee for Teachers - this includes teacher representatives, local authorities and the Scottish government.
A key part of the deal was to improve the pay of supply teachers at a quicker rate. The union said it hoped this would help ease what some have described as a crisis in supply teacher numbers.
'Hard-won package'
As well as this, the new deal will also bring improvements for teachers including a commitment to maintaining teacher numbers and addressing workload concerns, a contractual protection for teachers against administrative duties and salary protection for former chartered teachers,
EIS General Secretary Larry Flanagan said: "Teachers have recognised the positive elements of this hard-won package."
But he said the time had come to ease the restraint on public sector pay.
Mr Flanagan warned: "The pay element of the package, 1% for both this year and next, falls far short of being a fair settlement.
"Whilst teachers acknowledge that this 1% offer is in line with other public sector awards, and results from limits that have been created by current government pay policy, the EIS is clear that this continuing attack on the living standards of public sector workers, including teaching professionals, cannot continue."
He added: "As the economy continues to recover, and the bankers who caused the financial crisis increasingly return to their excessive pay and bonus culture, it is time for the restraint on public sector pay to end.
"Our teaching professionals, and other public sector workers, cannot continue to be endlessly squeezed to pay for a financial crisis that was not of their making."
'Welcome news'
Scotland's other main teachers' union the Scottish Secondary Teachers' Association (SSTA) said it was relieved the decision of EIS ballot meant salary increases would now reach its members.
Alan McKenzie, SSTA acting general secretary, said: "This is welcome news that should allow the salary increase that was inevitable ending up in the pay packets of our members.
"We have always been of the view that the changes to the work practices proposed were minor and that view remains unaltered to this moment."
He added: "It is commendable that the small wording changes have been enough to satisfy others involved in negotiations."
Education Secretary Michael Russell welcomed what he called an "important step" in concluding the current negotiations on teachers' pay and conditions.
He added: "These negotiations have taken time but I look forward to their resolution so that teachers can receive their pay increase as soon as possible."