NHS Scotland coping 'much better' with winter pressures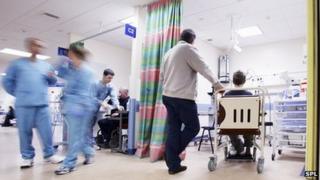 The NHS in Scotland is coping "much better" with winter pressures than last year, Health Secretary Alex Neil has said.
Figures showed a large drop in the amount of time patients spent in accident and emergency departments.
The improvements followed the introduction of a £50m investment to improve emergency care.
Mr Neil welcomed the figures but warned against complacency, saying the worst of the weather could still come.
The figures showed a large decrease in the amount of patients who had to spend 12 hours or more in a hospital accident and emergency department.
In December 2012 there were 323 patients who had to wait this long in A&E, compared with just 42 in the same month in 2013 - a drop of 87%.
There was also a 69% fall in the number of patients spending more than eight hours in A&E, with this dropping from 1,555 to 480 over the same period.
In the final month of 2013 a total of 93.5% of people at accident and emergency units were seen and treated within the four-hour target.
Other figures showed that flu rates were at the expected level for this time of year, with 21.5 GP consultations per 100,000 people. They also showed that just two hospital wards were closed as a result of the norovirus last Monday, compared with 11 a year ago.
'Added strain'
Mr Neil said: "Last year we saw increased pressures on our hospitals in the peak of winter, including an early start to the norovirus season, an increase in respiratory illnesses, and a rise in the number of people attending A&E in the peak of winter.
"Following last winter, we recognised that improvements needed to be made, and that is why we introduced our three-year £50m emergency care action plan, to help improve emergency care across Scotland."
He said this had seen health boards across Scotland given £9m already to support winter planning, with NHS chiefs having put in place "a number of new measures to ensure we could manage the added strain that winter can bring".
Mr Neil said: "I am encouraged that this winter NHS boards have reported they are coping much better than last year.
"However, I recognise that there will always be challenges in managing pressure on our hospitals, and I am not complacent."
He added: "I remain very much aware that pressure on our hospitals can fluctuate throughout the year, and that the worst of the winter weather could still be to come.
"We are continuing to work closely with boards to meet challenges as they arise."
'Streamlined care'
As part of the changes health boards have introduced, NHS Forth Valley has established a special unit aimed at improving care for frail elderly patients and helping them to remain in their homes and communities.
The same health board now has additional beds at Stirling Community Hospital, and is working with the local council to reduce time patients spend in hospital unnecessarily.
Dr Liz Millar, consultant geriatrician for NHS Forth Valley, said: "It's well documented that staying in hospital a long time can lead to older people losing their confidence and mobility and we know that most older people want to return to their own home as soon as possible.
"By providing rapid access to a wide range of specialist care, treatment and support we can streamline their care, improve their experience and help them to return home to live as independent a life as they can."