'Rail revolution' demand from Transform Scotland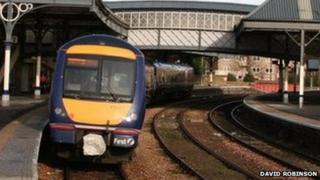 Transport campaigners have called for a "rail revolution" to make train travel in Scotland faster, safer and greener.
Transform Scotland said urgent investment and upgrades were needed.
It has issued a list of key developments it said could help "bring cities closer together" and provide travellers with a "safe, civilised and sustainable" mode of transport.
Transport Scotland said record levels of funding were being invested in the rail network.
Transform Scotland is an independent charity that advocates sustainable travel and has a membership of about 60 organisations.
'Civic support'
The group has called for a reduction in journey times from Inverness, Aberdeen and Dundee to the central belt through the electrification and doubling of rail lines.
It also suggested a new direct rail link from Perth to Edinburgh, cutting up to 35 minutes off travel times from Inverness and Perth to the capital.
According to spokesman Paul Tetlaw, the current 71-minute journey time from Perth to Edinburgh is slower than the equivalent journey 100 years ago when it took 65 minutes.
"Scotland needs a rail revolution," he said.
"Our campaign will build broad civic support for a planned programme of investment in the Scottish rail network over the next 15 years to bring all seven of Scotland's cities closer together with a safe, civilised and sustainable mode of transport and make Scotland's rail network fit for the 21st Century.
"In doing so, we can reduce journey times, support travellers and commuters, create jobs, support the Scottish economy and reduce Scotland's carbon emissions."
The Inter-City Express campaign is supported by Rail Freight Group, Capital Rail Action Group, the Friends of the Far North Line and the Scottish Association for Public Transport.
Rail Freight Group spokesman David Spaven said: "The great thing about radically upgrading the rail infrastructure north of the central belt is that freight transport would benefit enormously, as well as passengers.
Public satisfaction
"With a fit-for-purpose Perth-Inverness railway, for example, we could increase the number of daily freight trains from two to as many as eight in each direction. That's the equivalent of taking more than 300 lorries off the A9 every day."
WWF Scotland director Lang Banks welcomed the Transform Scotland campaign.
He said: "Road transport is one of the biggest sources of carbon emissions in Scotland. If we're serious about meeting our climate change targets then we need to see a significant shift from road to rail and other forms of sustainable transport.
"As a resident of Perth, I find it quite bizarre to discover that a century ago I could have made the train journey to Edinburgh much more quickly than I can today.
"It's clear to see that increased investment in rail would be good for Scotland's communities, our economy and the environment."
A Transport Scotland spokeswoman said: "Direct infrastructure investment by the Scottish government to reverse decades of neglect shows record levels of funding, with £8bn committed over the next two years, is already supporting around 50,000 full time equivalent jobs across Scotland - resulting in rail having ever-increasing passenger numbers and consistently high levels of public satisfaction compared to the UK average.
"We are spending more than double per head of population on our railways than Westminster over the next five years and we are taking a distinctly different path to ensure rail travel is affordable by regulating more fares and capping increases at or under inflation."
Transport Scotland also said it was continuing to work with ScotRail to address capacity issues where they occur on the Aberdeen/Inverness/Dundee services.