Scottish minister acts on rural delivery charges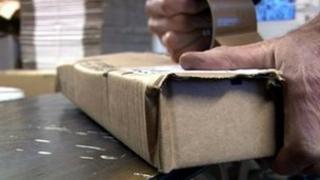 Enterprise minister Fergus Ewing has asked major retailers to ensure customers in rural areas are not penalised on delivery charges.
Businesses have signed up for a code of practice which should end "disproportionate" fees.
It also commits them to provide the widest possible delivery coverage.
The minister said he was contacting companies to remind them of the importance of the service they provide to less populated areas.
The agreement on delivery charges came from a working group involving the watchdog Consumer Futures and the Scottish government.
Representatives of industry, trading standards and consumer groups have signed up for it.
Mr Ewing said: "Although the principles are voluntary we believe they will help to support businesses and reduce the number of customers who abandon purchases at the last minute because they find out the cost of delivery.
"It is not acceptable to hear reports of customers in the Highlands and Islands experiencing excessive charges, being refused delivery and being misled by the term 'free delivery'.
"We would encourage retailers to take on board these guidelines."
Trisha McAuley, the Scottish director of Consumer Futures, added: "Many of the problems consumers face could be avoided if retailers adopt the principles in their business practices.
"Consumers in Scotland should be able to take heart that there are industry agreed principles out there, but retailers now need to demonstrate their commitment to customers and say how they plan to roll-out improvements in delivery services."