More than 700 attacks on A&E staff in Scotland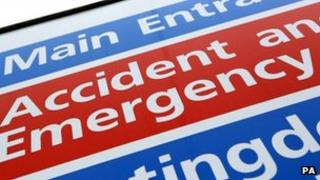 There were 774 attacks on accident and emergency staff in Scotland reported in 2012 and 2013, according to figures from the Scottish Liberal Democrats.
The data was obtained through freedom of information requests.
The Lib Dems said it was "shameful" that staff in A&E units were subjected to physical and verbal abuse from patients.
The Scottish government said it was working to continue to bring down the rate of attacks against staff.
Health boards across Scotland were asked about how many incidents of abuse against nurses, doctors, porters and administrative staff working in A&E departments were reported in 2012 and 2013.
'Traumatic conditions'
In a number of instances the police were called in to protect staff who had been subject to verbal and physical abuse from patients.
In one case a person being treated at Perth Royal Infirmary attempted to bite a staff member.
Reports from other hospitals revealed "worrying" incidents of homophobic and racial abuse, the Liberal Democrats said.
The party's health spokesman Jim Hume said: "Our figures show that a total of 774 attacks on A&E staff took place across Scotland over 2012 and 2013. That's equivalent to an attack a day on NHS staff.
"NHS staff at A&E units have a tough enough time trying to save the lives of patients in often traumatic conditions. It is shameful that A&E staff are having to fend off violent and verbal attacks whilst trying to do their job.
"Time is precious in A&E units and every minute which is spent dealing with abuse and calling in the police could be better spent at the bedside of patients.
A Scottish government spokesman said: "Attacks against NHS staff are despicable and the perpetrators should be dealt with in the strongest possible terms.
"There is no question that staff should feel safe in their jobs and no-one should be the victim of abuse or violence while at work.
"We are working hard to continue to bring down the rate of attacks against staff and more people than ever before are being convicted under the Emergency Workers (Scotland) Act 2005 with the penalty of up to 12 months imprisonment, a £10,000 fine or both."