Squeezing the oil industry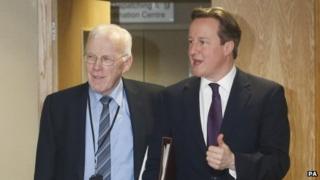 While cabinets clashed over Aberdeenshire and the oil industry on Monday, something was happening that was perhaps far more significant for the future of the Scottish economy.
The publication of Sir Ian Wood's UKCS Maximising Recovery Review may not sound like a best-selling page-turner. Although related to the UK cabinet's visit to Aberdeen, the meat of it risked being overlooked.
Sir Ian, the busy retiree who built up the Wood Group oilfield services giant, suggested all the political attention, of rival cabinets, might be welcome to an industry that has been long-neglected as over the horizon and out of sight.
But he also played down the significance of what he was proposing. Having played the oil game in Aberdeen for more than 40 years, he knows how to keep industry colleagues and politicians on board.
And for a report as radical as this, it was no mean achievement, in the current political environment, to get support from the UK and Scottish governments as well as a welcome from the industry. It was quite a guarded welcome.
The industry may be willing to accept these changes because it has been surprised by the scale of the problems it faces. Yes, it's been investing heavily in the past few years, reaching nearly £14bn last year. But the "industry anticipates that this will at least halve in the second half of the decade unless new developments are matured".
All time low
The numbers are dramatic. Production down by 38% between 2010 and 2013. Costs (per barrel recovered) have risen five-fold in only 10 years.
And "exploration is at an all time low and is in urgent need of attention". Only 14 wells were drilled in 2011, recovering slightly since then, but with disappointing results.
"There has not been a significant (multi-hundred million barrel) discovery for five years and a step change in exploration strategy and knowledge are required to unlock new resources."
The report goes on: "In the last two years, less than 150m barrels (or gas equivalent) have been discovered and if this trend continues, the UK will fail to recovery even a small portion of the exploration potential that still remains across the UKCS, which DECC (the Department for Energy and Climate Change) estimate to range from six to 17 billion barrels."
New culture
The conclusions in the final Wood report this week continued in the direction of the interim one, published in November. I wrote about it back then, pointing out that it completely re-aligns relations between the industry and its regulator.
That regulatory function is to be removed from DECC, where it will no longer have to fight with ministerial concerns about green energy targets and rising energy bills.
Sir Ian wants it to have a wholly new culture. His public comments were more careful and placatory than the substance in the document. In print, he made it clear that the industry is not acting in the nation's best interests.
There were, for instance, 20 occasions he found when a failure to agree between offshore operators had a cost in terms of output and efficiency.
The consequences of past lack of investment are becoming apparent. Ageing assets are a factor, but there are "strong signs that there's also been under-investment in new techniques for enhancing oil recovery".
Instinct to abandon
And this crossroads for the industry is where the alignment of national with industry interests parts company. The national interest is deemed to be the maximisation of the recovery of oil and gas (apart, I readily acknowledge, for those who point out that's no way to combat climate change).
However, the industry's priority is to make best use of its capital to maximise a financial return. And if its assets in the North Sea aren't returning as much as Alberta or Kazakhstan, then the corporate instinct is to pull out, abandon assets and leave uneconomic oil and gas under the seabed.
The new regulator's role will be to resolve that by working with government to get the tax incentives right, and by wielding a big stick to ensure the company fulfils explicit obligations to steward the resource in the maximising of output for the national interest.
Its key role is to ensure ageing assets are kept working, where there's more to be had from the seabed. In order to justify having licences for the UK Continental Shelf (UKCS), oil firms will have to work with others, sharing assets such as pipelines, with required mediation where they can't agree by negotiation.
They'll have to share their data with the regulator, and promptly, and let the regulator into crucial meetings about investment decisions.
They'll be told when they should be using expensive modern technologies to squeeze the most they could out of tight rock formations, or where there are high pressure or high temperature wells.
They'll be told when they're not allowed to decommission old equipment, where that could be useful to nearby developments.
Roll out the barrels
The approach will be less about licensing individual fields and more about strategies for clusters of fields, often linked by pipeline networks. That regional approach starts with the southern North Sea.
And if they don't like it, the operators will be subject to a system of private, then public warnings, possibly leading to a removal of the licence and a forced sale of the asset.
Sir Ian says there could be 24 billion barrels left, but without co-operation on the scale he has in mind, only half of that might be recovered.
He points out that's worth a colossal amount of "economic activity". Although the 24bn barrels looks rather less than the 42bn barrels already extracted, the value of them could be at least as high.
He cites the industry estimate that it supports 450,000 jobs. He says £500bn has been invested, that it's brought £310bn in production taxes.
And he suggests that the estimated £30bn cost of decommissioning all that equipment could well rise to a business opportunity in excess of £50bn.
What he avoids is calculating how that might translate into tax. That's possibly because higher costs can be written off against tax, and the return to the Treasury (in London or one in Edinburgh) will suffer as a consequence.
That, after all, would get Sir Ian into politics. And he's been cannily been avoiding that.