Scots pupils 'want more say' in school meals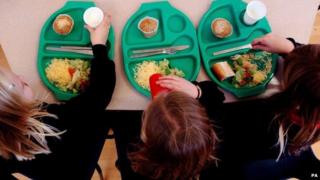 Pupils want more say in school meals, according to a new report from a charity.
The research for Children in Scotland was carried out with pupils at several different schools across the country.
Students said they would like to be involved in decisions over what meals are available and tackling problems like queues or unappealing menus.
All Scottish P1-P3 pupils will be entitled to free meals from next January.
The research for the charity Children in Scotland comes ahead of Scottish government plans to publish new guidance around school food.
The government said the study had "helped inform" that guidance.
'Timely juncture'
The charity's review, called "Ask the children what they want", surveyed more than 300 school pupils across Scotland.
The pupils had some clear ideas about what they would like to see improved.
Many spoke of their desire to see local and seasonal produce used on school menus, as well as a wider choice of dishes.
Some also mentioned that the time they spent queuing meant they had less time to play or take part in other lunchtime activities.
Linda Young, participation officer with Children in Scotland, said: "This was a wonderful project to do and was great to hear first hand what pupils, from primary to secondary, think of their school food experiences.
"It was encouraging to hear that pupils wanted to be more involved in some of the decisions around food provision and food education.
"They were not unaware of the restrictions faced by many schools and local authorities today, but overwhelmingly they just wanted to have a say."
Jackie Brock, chief executive of Children in Scotland, added: "The findings of this report come at a timely juncture when the Scottish government is publishing its own revised guidance on food and eating spaces in schools and we are confident some of the findings and suggestions will be reflected in this."
An expert working group - which included representatives from education, procurement, the food industry and parents - will publish their report "Better Eating, Better Learning - a new context for school food", next month.