Scottish government explains council funding deal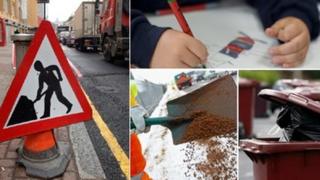 Most councils would get more money if the formula used to give out government cash was changed, according to finance secretary John Swinney.
Government figures suggest around two-thirds of them could benefit next year but many do not want change.
A row over the way the cash is handed out is at the centre of a complex dispute which threatens to divide the council umbrella body Cosla.
Councils typically get about 80p of every £1 from the government.
There are two possible ways of calculating how much cash councils are likely to get from the government next year.
The so-called "flat cash settlement" means they'll essentially get the same amount.
Winners and losers
Or changes could be made to some of the factors which feed into how the distribution formula works. This would mean both winners and losers.
Council leaders at Cosla have already backed the flat cash settlement but the government figures suggest most would actually benefit from the other option.
Aberdeen and Dumfries and Galloway have already given notice they may quit Cosla in a year's time. Renfrewshire and Inverclyde also say they intend to leave.
Glasgow and South Lanarkshire are expected to reach decisions soon and other Labour-run councils in the west of Scotland are watching closely.
The complex dispute at Cosla is about power and decision-making within the organisation but came to the boil over the formula used to distribute government cash.
Some Labour councils claim they are getting a bad deal under the current system and want it changed. They believe Cosla has proved ineffective in representing their concerns.
Other councils are worried about possible changes to the organisation's internal structure and decision-making process.
Labour leads 16 of Scotland's councils but power within Cosla is more subtly divided.
Major cities
Aberdeen Council - which has long argued it gets a bad deal from the funding formula and which plans to quit Cosla next year - will lose out on more than £7m if the indicators are not updated, according to the figures.
Inverclyde and Renfrewshire would also be amongst the winners if the indicators were updated.
But Glasgow and Edinburgh would both lose out.
Mr Swinney said: "I have written to Cosla asking them to confirm that they do not wish to uprate the funding formula for 2015-16.
"I am respectful of the relationship we have with local government and of their internal decision-making, and for those reasons I am minded to accept the proposal from Cosla that they do not wish the government to uprate the funding formula for 2015-16.
"However I also want this decision to be made with the utmost transparency. The view Cosla has expressed will have funding implications for councils around the country.
"I have set out to all local authorities the two different scenarios to ensure that the full facts are available and that informed decisions are taken."