Delivery charges to business studied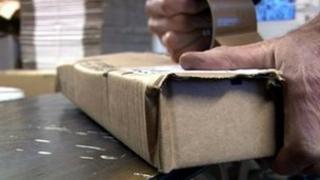 Businesses throughout Scotland are being targeted in a survey to assess the effect that high delivery charges to the north are having.
Citizens Advice Scotland said suppliers were penalising firms in a number of postcode areas with charges that bore no relation to actual shipping costs.
It is an issue Citizens Advice has been campaigning on for a number of years.
The group has mainly been concerned with the impact on consumers but now it it is looking at how business is hit.
Citizens Advice wants businesses to outline how they feel discriminated against.
One sweet shop owner in Moray said an English supplier had insisted that only orders of more than £1,000 would be eligible for free delivery to the north of Scotland.
Fair deal
Another firm complained that they were charged extra even although the goods were sent by Royal Mail, whose postal rates are the same everywhere in the UK.
CAS said it would use the survey to increase the pressure on the government, regulators and suppliers to ensure a fair deal for customers in the north of Scotland.
Citizens Advice Scotland chief executive Margaret Lynch said: "We've been campaigning for years on this issue of high delivery charges.
"In 2011/12 we collected evidence from over 3,000 Scots, and published research which found that delivery firms applied huge additional charges to postcode areas that included one million Scots - not just in the far north but across much of the country."
She added: "Until now we have mainly focused on the impact this has on individual consumers.
"But we have also been contacted by many businesses, particularly small business.
"High delivery charges can be absolutely devastating for them - both when sending and receiving parcels. We estimate that there are well over 20,000 businesses that could be affected."
The survey is open until Friday 14 March.