North Sea costs blow investment abroad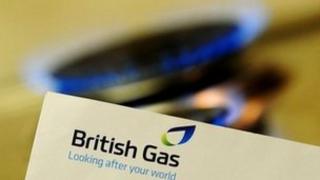 New rules on offshore helicopter flights, announced today, are a reminder of the risky business of bringing hydrocarbons ashore.
And while the measures should make those offshore flights safer, financially, the business looks like it's getting riskier.
Today's Centrica results were scrutinised closely for the British Gas and Scottish Gas domestic supply figures.
Its profits remain at the centre of a political storm, with the company's chief executive warning off politicians who offer solutions to high and rising household bills that penalise the supplier companies.
Profits in that retail division were down 6% to £571m. But operating profits on the company's upstream facilities, exploring for and production oil and gas, looked rather better. They were up 23% to £1.155bn. Behind that was a 16% increase in production of gas and liquids.
The allegation is that the company can shift its accounting around to make the household supply bit look less profit-hungry.
New pipelines
And one response to that may be that the company becomes (or is forced to become) more transparent about the relations between the upstream production and downstream delivery to customers. The 2013 results were clearly delineated to give the appearance of Chinese walls.
This vertical integration of Centrica hasn't happened because of shareholder greed or by accident. The story it tells is of a drive from downstream to upstream to secure gas supplies. That was stepped up after Russia temporarily turned off the gas taps to its neighbours.
The industry rushed to buy upstream reserves, to build new pipelines, turning more to Norway, and to sign up Liquid Natural Gas shipments from Qatar and Trinidad, for which the UK has stepped up development of port terminals.
If there really are Chinese walls within Centrica, the profits made in its upstream operations, based out of Aberdeen, would be the same if it were required to divest that part of its business to another energy firm.
If that's the direction of policy travel, the benefits of opening up wholesale markets will have to outweigh the costs and risks of companies losing their secure wholesale supplies.
North Sea costs
Amid the row about household bills, the annual results from Centrica contained an important message about upstream. It said the UK North Sea is getting less attractive for investment.
Centrica is one of the biggest players there. It's got a strong emphasis towards gas supplies, at which it is the biggest player. That means it has a disproportionately large footprint in the southern North Sea, off the English coast.
But what chief executive Sam Laidlaw has told shareholders is this: "With rising costs in the North Sea, we are targeting our investment towards opportunities that offer the best value, particularly in Norway and in North America."
He goes on to emphasise that rising costs per unit of energy produced, particularly in the UK, means he wants to implement savings so as to keep spending flat, rather than pumping more money into offshore wells to meet those rising costs.
"We are being increasingly selective in our investment, concentrating on the most attractive opportunities," writes Laidlaw.
"An increasing proportion is expected to be directed towards North America, where we are well placed to benefit from any increase in gas prices. Taking account of forward UK gas prices and higher costs, we are targeting a reduction in our organic investment in gas and oil projects to approximately £900m on average over the next three years.
"This is around 20% lower than previously expected levels, but will have limited impact on near term production".
In other words, Britain's biggest gas producer and supplier is investing £180m per year less than it planned in UK waters.
The company has also pulled out of nuclear power developments in the UK. It's sold an offshore wind project. And it's constraining output from its loss-making gas power stations until prices make it more attractive.
There seem to be a lot of unwelcome messages in that for UK energy secretary Ed Davey to digest.
Aberdeen bound
He'll be doing so with Sir Ian Wood early next week, when the big man of the North Sea delivers his final report into what is needed to get the best results out of the remaining reserves in UK waters. Wood's interim report, published in November, was pretty radical, in calling for government to take a much more proactive stance in requiring companies to keep investing and producing if they're to have the right to operate in these waters.
That's as both the Scottish and UK cabinets head to Scotland's north-east next Monday, where both will be emphasising the importance of the energy sector.
Also next week, Oil and Gas UK, the industry body, is due to publish its annual review of activity. Last year, it highlighted those fast-rising costs of which Centrica complains. Much of that, from 2012, was down to unplanned shutdowns, prolonged and pricey maintenance and global markets pushing up the price of assets.
There are also concerns about skill shortages bidding up wages.
With all that going on, don't be surprised if the attention on the industry in and around Aberdeen also includes some reference to the Scottish independence debate. With all the heavy pounding recently on the currency, Europe and pensions, it's surely high time someone returned to the subject of oil.