Scottish independence: Five stories about living on the Irish border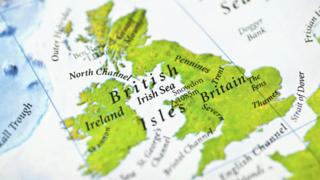 The people of Scotland will soon decide on their country's future. If they say "Yes" to independence, what might happen to the border between Scotland and England?
In the second of a two part series, the BBC's Louise Sayers examines what life is like along the Irish border and what lessons Scots might learn.

The sign "Scotland welcomes you" might be the only thing you notice when you cross the border from England.
The surroundings are much the same - the road furniture and the vehicle number plates don't change and if you stop at a service station you can use the pound in your pocket to buy a coffee.
But could it be different if people in Scotland vote for independence on 18 September?
First Minister Alex Salmond says it won't, but UK chancellor George Osborne reckons Scotland would become a "foreign country".
I spoke to people in Ireland about what it's like living on a border - and they told me about the subtle and not-so-subtle differences.
1. James Bonner: "I live on one side, but work on the other"
"I live in Moville in County Donegal, about nine miles from the border with Northern Ireland and I travel more than 60 miles to work every day in County Antrim.
"Under European rules, you can get a lot of business grants for projects. So, what some people do is have a company in Donegal (in the Republic of Ireland) and a company in Derry (in Northern Ireland) - only five miles apart- and they are treated as two countries for a European submission. There are all sorts of loopholes like that, that people take advantage of."
"If you work in the north and you live in the south there is no real advantage financially, and in some cases you can be hit with what is called a double tax.
"The Euro rate fluctuates up and down as well, so if you're paid in Sterling and live in the Republic you can lose 10% of your wages in that way.
"The price difference between Tesco in Letterkenny and Tesco in Derry is a good 10%, because the shops take no risks with the currency fluctuation, so if you're paid in Sterling you tend to shop in Sterling, if you're paid in Euros you would tend to shop in Euros.
"There are other complications as well. For example one of my children was born in Northern Ireland and the other was born in the Republic of Ireland, and it can be difficult when you go to get passports or negotiating different tax arrangements."
2. John McDermott: "Postal services are my border problem."
"I live in Dublin, and unhappily for me, Amazon differentiates between UK and Irish customers and offer free postage to UK buyers who spend only £10 on products 'fulfilled by Amazon', while their the free postage to Ireland only kicks in once you spend £25.
"I have problems with many online purchases from the UK, when they try to rip me off for postage because I am in Ireland.
"However, I get my online purchases delivered to a friend in Northern Ireland who drops them down to me periodically.
"That said, I have bought a nice bicycle from one of the few very enterprising online bicycle retailers who ship bicycles overseas from the UK.
"The carriage was a reasonable 35 Euros and I would have paid more in a local store in Ireland for the same quality product, even after deducting the shipment charge."
3. Bill Gordon: "I remember the border in the 1940s."
"After my family moved northwards, from Dublin, when I was a child I continued my education at a primary school in Lifford in Donegal, so it was a cycle ride across through two border check points.
"Crossing the bridge in Lifford was a very real feeling of going into another state, and people like ourselves who came from the Irish Republic had to have a work permit to work in Northern Ireland.
"In the early 1900s, Strabane was a very prosperous place bringing in people from Donegal to purchase stuff. The border cut all that off. It was a very tangible thing, and it did blight the economies of border towns.
"The border was very much in your mind when I was growing up, and it was a very physical thing on the roads.
"But if you look across now there is no evidence of a border from my own window here.
"The border kind of crumbled away after the UK and Ireland entered the European Economic Community (EEC), and tariffs and free trade across the border arrived. But it made for a border mentality. Once you establish a border mentality it is there for life, and stays there for generations."
4. Jack Murphy: "Cross-border business changes all the time."
"I own a jewellery shop in Newry, a city near the border with Counties Louth and Monaghan.
"We're so close to the border here - we're five miles away from Euro-land - and taxes change there, VAT changes there and currency would fluctuate.
"But we have got to be aware that that is part of our hinterland, and so it's not like trading in Manchester and Birmingham, because we've got this other half, this other side to us- it's a case of where your right hand and your left hand have to be working together, so we become more like traders than normal retailers.
"Price has always been very much to the fore, but what people come to buy will vary at times. At one stage there was great cross-border business on alcohol through the supermarkets, but then a lot of the supermarkets down south started to catch on to that.
"At the moment VAT is higher in the South of Ireland than it is here, and that has a benefit for us, but that can chop and change in the same way.
"People used to come north of the border to buy fuel, petrol and diesel and over the last number of years the attraction is to go south, because fuel is cheaper there, so it can hop from one year to the next.
"That's why you have to be aware of how things can change outside your control, and you've got to be aware of how you need to change with it to keep your product attractive."
5. Graham Robinson: "I treat people from the south because it's cheaper for them."
"I'm a dentist and our catchment area is Ballymagorry and Strabane on the north of the border, and Lifford and Raphoe on the other side, so naturally for those people it would be geographically convenient for them to come for treatment in Strabane, regardless of what side of the border they live on.
"Certainly from a financial point of view patients coming from across the border would find it probably cheaper to come here because our fees are based on health service fees and that is what we are used to getting.
"What the person pays under the Health Service is not the full fee that we get, they pay a percentage of it and the government subsidise it. Hence we have to charge someone who is coming from across the border more than they would be paying if they lived in Northern Ireland, as we have to add on the subsidy.
"But even with that set aside it is still cheaper for a person coming across the border than they would be paying a dentist in the Republic of Ireland.
"I would say off the top of my head that around 10%-12% of my patients would be from over the border, and the vast majority would be from Donegal or nearby."