Scotland bucks UK drink-related death trend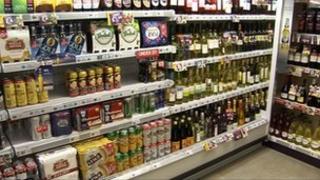 Drink-related deaths in Scotland have fallen significantly in the 10 years to 2012, bucking the trend in the rest of the UK.
Figures released by the Office for National Statistics (ONS) suggested that death rates rose in England (2%) and Wales (15%) over the period.
But in Scotland, they fell by 37% for men and 34% for women. The total also dropped by 8% in Northern Ireland.
Overall drink-related deaths fell by 4.4% across the UK to 8,367.
In all four countries the death rate has declined since the peak of 2007, with previous surveys showing a steady drop in the proportion of adults who drank alcohol frequently.
The ONS said: "Despite the fall in alcohol consumption, it is likely it will take a number of years for any resulting reduction in alcohol-related deaths to become apparent.
"This is because diseases associated with excessive alcohol consumption are often slow to develop.
"For example, Alcoholic Liver Disease (ALD) is the most prevalent of all alcohol-related causes of death included in this bulletin and is responsible for approximately 63% of all alcohol-related deaths in England and Wales in 2012."
Dr Evelyn Gillan, chief executive of Alcohol Focus Scotland (AFS), said it was good news that alcohol-related deaths in Scotland had fallen in recent years.
However, she pointed out that 20 people were still dying because of alcohol each week in Scotland.
She said: "We know what preventative action works - making alcohol less affordable, less available, and less visible.
"Minimum unit pricing must be introduced as soon as possible."
Drinking habits
The Scottish Parliament has passed legislation to impose a 50p minimum price for a unit of alcohol, but its implementation is stalled pending the conclusion of legal challenges.
In England the alcohol-related death rate was lowest in eastern counties (10.2 per 100,000 population) and highest in the north west (20.7 per 100,000).
The ONS said it was likely that this had largely resulted from regional differences in drinking habits in the past.
The highest proportion of binge drinkers were in the north west (15%) and the lowest in London (8%).