EIS calls for bureaucracy cut ahead of new Nationals exams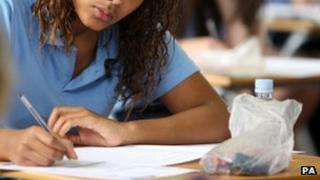 Scotland's largest teaching union has renewed its call for a cut in the amount of bureaucracy it claims members are facing because of new qualifications for secondary pupils.
The National 4 and 5 qualifications have replaced Standard Grades.
The first exams associated with the new courses take place later this year.
The Educational Institute of Scotland (EIS) wants the Scottish Qualifications Authority (SQA) to take steps to lighten teachers' workloads.
It said teachers should be given more time to work with pupils before the first round of the new Nationals.
The union has called on the SQA to suspend a scheme which assesses how teachers are grading pupils' work.
'Sensible proposal'
It said allowing schools to opt in would help target schools in need while allowing others to use time to prepare for exams.
Larry Flanagan, EIS general secretary, said: "At this point in the school year, where exam preparation is vital, the most helpful thing that the SQA could do is act to lighten the pressure that is being placed on pupils and teachers by simplifying its verification procedures."
The call is supported by Alan McKenzie, acting general secretary of the Scottish Secondary Teachers' Association.
He said: "This is a sensible proposal allowing a little flexibility for hard-pressed schools to ease the workload burden that is now accepted as a barrier to the successful implementation of the Nationals."
SQA chief executive Dr Janet Brown said: "External verification is a critical component of the quality assurance process that supports teachers delivering the new National Qualifications.
"The external verification process is designed to build confidence in the assessment system, and we have seen clear evidence in many subjects and in many centres of a sound understanding of the standards and good assessment practices.
"We have fed back to the schools that were sampled in the first round and will continue to supply information to all schools - highlighting good practice and providing feedback throughout the verification process.
"We will continue to discuss verification with teacher associations and others to ensure that the process supports the maintenance of national standards, while allowing teachers time to focus on coursework and exam preparation."