Renfrewshire Council may quit Cosla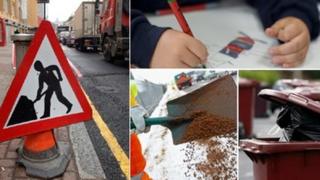 Another major council has said it is planning to leave Cosla, the body that represents Scottish local authorities.
Labour-run Renfrewshire Council is the third to warn it may quit.
It believes Cosla is not doing enough to stand up for councils against government policies.
Another two councils in the west of Scotland are expected to decide whether they should also quit in the next few weeks.
Aberdeen Council has already decided to leave the body next year. Separately, Dumfries and Galloway may also leave the organisation.
Formula changed
At the heart of the dispute is the formula used to distribute government money between Scotland's 32 councils.
Typically about 80p of every pound each council spends comes from a Scottish government grant.
A long-standing and complicated formula divides up the cash. It takes account of factors such as the relative prosperity of an area, the demographics of the population and how urban or rural the population is.
But some Labour councils think they are getting a bad deal and want the formula changed.
Changing the funding formula would mean there would be winners and losers and many other councils are happy with it as it stands.
Leaving Cosla will not mean a change in the formula - that would ultimately be up to the Scottish government.
But some Labour councillors are known to feel frustrated that they cannot gain an agreement at Cosla to try to get the formula changed and feel that membership of the umbrella body is not currently value for money.
One source said there was frustration that Cosla was not able to take a stand against Scottish government policies which they believed were harming local government, even although Labour-controlled councils provided Cosla with the majority of its cash.
Because Cosla seeks to represent the views of all 32 Scottish councils, it is rarely possible for it to gain agreements to take a stand on any controversial party political issue.
Collective interests
Councils are required to give a full financial year's notice of their intention to quit Cosla.
Three other Labour councils in central Scotland - including Glasgow - are likely to decide what to do in the next few weeks while some others are known to be watching events closely.
Cosla currently represents the collective interests of all councils and also negotiates Scotland-wide pay deals with unions.
Dave Watson, Scottish organiser for pay and campaigns with trade union Unison, said that while the union had had disagreements with Cosla over the years, he would not encourage or support its break up.
Mr Watson said: "Local government needs a strong collective voice in the face of government centralisation and cuts.
"Breakaways simply weaken the message and encourages divide and rule. We would therefore encourage the parties to sort out their disagreements as the procedures allow.
"The employers' side of the national bargaining machinery is administered by Cosla, but it could be done in a different way. Again we are not encouraging this.
"The experience of single status implementation and equal pay highlights very clearly the problems with local pay determination.
"No sensible council would want to repeat those mistakes and the financial consequences in the current environment."
The Scottish government said membership of Cosla was up to individual councils but defended the system used to distribute cash.
A Cosla spokesman said: "The reality is that Cosla is the only local government association in the United Kingdom with a 100% membership.
"This will continue to be the case for the rest of this financial year and all of next financial year and during this time the organisation will be doing its absolute utmost to ensure that we resolve the issues that have been raised with us and as well as representing our full 32-council membership."