Corroborating reports over FM's tough tasks ahead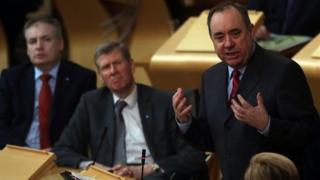 The ways to question the first minister are many and varied. Some opt for bluntness. Some favour the approach unctuous. Some, and this will astonish you, appear to be genuinely seeking information.
Today the queries chucked in the general direction of Alex Salmond broadly divided into two. Indeed, the half hour seemed to feature two entirely distinct parliamentary events.
Firstly, Mr Salmond tangled with Labour's Johann Lamont on Scotland's future under independence, as diagnosed by sundry business folk and others. The exchanges there were loud and robust, even raucous.
Then the topic and the tone changed. Both Ruth Davidson and Willie Rennie urged Mr Salmond to shelve plans to scrap the general requirement for corroboration in Scots criminal cases. The dialogue here was similarly robust - but perhaps more grounded.
'Elite concerns'
Ms Lamont referred to the criticism of independence offered by Bob Dudley, the chief executive of BP. She noted that Mr Salmond had said there were "many, many" chief execs who backed independence.
The Labour leader invited the FM to name them - although she modified the challenge somewhat by specifying oil company bosses.
She repeated the challenge - and received the iterative answer that she should consult the pro-indy organisation Business for Scotland. (They later issued a statement saying they had more than 1,300 members - and citing eight company bosses.)
Ms Lamont went further. It was not just BP voicing concern. The big supermarkets, she said, had also expressed disquiet about independence.
Cue a combative come-back from the FM. He noted that the Shadow Scottish Secretary Margaret Curran, Ms Lamont's pal, had argued that the referendum debate needed to shy away from elite concerns - and to focus upon the issues that matter to the people of Scotland.
Mr Salmond advised Ms Lamont to eschew elitism - and listen to the people. An indignant Ms Lamont argued that it was her concern for the citizenry which led her to adopt the stance she did.
MSPs plea
From that to FMQs, version two. Scots Law presently requires at least two items of evidence before prosecution can proceed: that is corroboration. The Scottish government plans to scrap that requirement, arguing that it is preventing certain cases, such as allegations of sexual offences and domestic abuse, from reaching court at all.
But several senior figures in the Scottish legal system are unhappy - and, at Holyrood, the justice committee has decided by a majority to call for the plan to scrap corroboration to be dropped from a wider criminal justice bill.
Scottish ministers have now asked the former High Court judge Lord Bonomy to look at possible further safeguards to prevent miscarriages of justice. But critics say that would only happen after corroboration had been scrapped. Both Ruth Davidson and Willie Rennie called for the measure scrapping corroboration to be shelved, pending the Bonomy review.
But Mr Salmond said there was "injustice" in the present set-up in that hundreds, perhaps thousands, of cases were unable to go to court.
On this issue, however, it seems that he still has some way to go to convince his critics. With regard to Part One of FMQs, the exchanges with Johann Lamont, the task may be tougher still.