At-a-glance: Report into economic impact of ageing in Scotland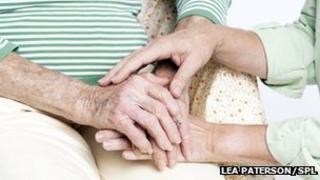 The National Institute of Economic and Social Research (NIESR) has published a wide-ranging economic review of the case for Scottish independence.
In a paper entitled Can an ageing Scotland afford independence?, authors Katerina Lisenkova (NIESR) and Marcel Mérette (University of Ottawa) look at the economic effects of population ageing in the context of Scottish independence.
An evaluation is made both of what would happen if Scotland becomes independent, and if it remains in the UK. Under independence, Scotland would finance its pensions alone while, as part of the UK, pensions would be funded jointly.
The authors find that Scotland would be slightly worse off under independence, but that this difference is small compared to the effects of ageing on both economies.
The paper says:
Population ageing over the next 50 years will be a major demographic challenge in many regions of the world, including the UK.
Numbers suggest that quantity and quality of public services in the UK are likely to decline unless productivity growth compensates for population ageing.
In the future, the Scottish population is projected to age more rapidly. By 2037, the old-age dependency ratio in Scotland will reach 48%, while in the rest of the UK it will reach 45%.
However, by 2080, Scotland's and the UK's populations will have roughly the same old-age dependency ratio.
If Scotland remains part of the UK, by 2060 output per person will fall by 10% and total government spending will increase by 4 percentage points of GDP. To achieve government budget balance, the effective labour income tax rate will have to increase from about 13.0% to 21.5%.
Scotland will perform worse than the UK in the case of independence, although the difference with the status quo scenario is small.
Other factors may potentially make the case for independence less appealing, such as a decline in the revenues from the North Sea and the level of public debt in an independent Scotland.
Over the next five decades, effective labour supply in the rest of the UK increases by 12%, while in Scotland it is mostly flat - partly through lower immigration.
By 2060, the real GDP in the rest of the UK increases by 16% and in an independent Scotland by 4%.
The authors conclude that demographic change is not a strong argument influencing the independence argument either way.