Deer control progress 'too slow'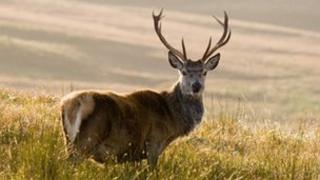 Deer management groups have been told to "get their act together" by MSPs.
Members of the Rural Affairs, Climate Change and Environment Committee said progress on deer control had been "too slow".
In the absence of large predators, Scotland's deer population has to be controlled to limit over-grazing.
But sporting estates and conservation groups disagree over the size of the deer population and the extent of the environmental damage the animals cause.
The committee has been examining how the present voluntary deer management code of practice, introduced in 2012, is working.
It said it was taking too long to implement effective deer management plans across Scotland, and some deer management groups lacked public accountability.
The MSPs said local groups must have their plans in place by the end of 2016 or face further action if the current voluntary system fails.
The committee's convener, Rob Gibson, said: "There is no doubt this is a controversial subject, with strong views on either side of the debate.
"What was clear from the evidence our committee heard was that we need deer management groups to be effective and environmentally responsible, bringing in all interests, not just those of landowners. At the moment, the picture is patchy and inconsistent.
"The committee considers that there is no definitive evidence of the need to introduce a statutory duty of sustainable deer management for deer management groups.
"However, if all 43 deer management groups do not get their act together, this committee will have no choice but to recommend further action."
'Level of performance'
The findings were described as "fair and even-handed" by land managers.
Richard Cooke, chairman of the Association of Deer Management Groups, said: "There is much in this report with which we agree, for example that the impacts of deer rather than numbers are most important, and that it is premature to undertake a review of the Code of Practice on Deer Management at this time.
"Whilst there are many deer management groups that are exemplary in what they do, there are a number that, for one reason or another, do not attain the required level of performance.
"We know that there has to be improvement in certain quarters and, even before the inquiry began last autumn, we had actively begun the process to effect this."
Environment and Climate Change Minister Paul Wheelhouse said: "I am grateful for the work the committee have done on this subject. Effective deer management is vital for Scotland's environment.
"The Scottish government values the collaboration and voluntary action that contributes to good deer management however we recognise that more needs to be done in some areas and will give careful consideration to the committee's proposals."