Scottish independence: What do experts think of post-Yes childcare plans?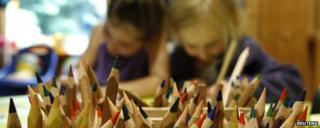 Leading childcare practitioners and academics give their views on the Scottish government's proposed childcare "transformation". According to the plans, parents would save up £4,700 per child a year and up to 35,000 jobs would be created in the childcare sector, while women would be encouraged back into the workplace, bringing in taxes worth £700m a year.
Jackie Brock, chief executive of Children in Scotland
"The White Paper is a game changer in that it has brought childcare into the economic arena. Childcare is extremely expensive for the public purse but we're not seeing the benefits.
"We welcome this focus on economics. The White Paper is the first real attempt by politicians to look practically at how we could choose to pay for childcare. We need more detail, but the figures we've seen so far look compelling, particularly with respect to tax generation.
"The plans don't go far enough, however. These proposals would enhance a system that won't meet the full ambitions of fully-subsidised childcare, the sort of seamless childcare approach you see in Scandinavian countries.
"We're looking for a more dramatic change that would give choice and flexibility for full-time and part-time working parents, and those just looking to dip in and out.
"For example, the government could pay the suppliers direct to provide more flexible, high-quality childcare in all areas, including those where there is currently no provision. This sort of model would follow need rather than market conditions. With this sort of system the taxpayer would get better value for money and it would work better for families."
Purnima Tanuku OBE, chief executive of the National Day Nurseries Association
"We welcome the proposal to give parents in Scotland access to more hours of high quality childcare which will be especially valuable to vulnerable two-year-olds.
"But for providers to deliver these places, and for provision to be high quality with well-trained and rewarded expert early years staff, there must be enough money reaching the frontline.
"The majority of nursery owners currently report making a loss on each free place they provide.
"This means they are effectively subsidising a system and that, in the long term, is unsustainable.
"Should Scotland vote for independence we would urge the Scottish government to ensure there is a robust funding system in place so it can deliver the extra hours and ensure parents have a choice of free provision in high quality settings in the timeframe of one parliament, as it is proposing."
Angela O'Hagan, research fellow at the Institute for Social Justice Research at Glasgow Caledonian University
"Putting childcare at the centre of economic policy recognises the need to think about it as infrastructure that supports parents to access to work, with more opportunity for sustainable employment.
"Currently, the cost and limited availability of childcare is a big barrier to women in particular being able to access and retain jobs at an appropriate level to their qualifications, and that offer higher wages.
"Seeing childcare in the round, across employment, economic and social policy is really important.
"That is part of the transformational shift proposed, and the White Paper opens up thinking about using taxation and other levers to generate public finance to invest in childcare as part of the economic infrastructure of Scotland."
Irene Audain, chief executive of the Scottish Out of School Care Network
"I agree with the economic, social welfare and equality arguments for childcare in the paper, all of which apply to out of school care, and it is therefore rather astonishing that it is missing, as proposals to transform childcare really should include all childcare.
"Out of school care enables parents to participate in the workforce, has a positive economic impact, is essential for social inclusion and addresses child poverty. No one who accepts the economic, equality and social welfare arguments for childcare, across the political divide, could argue against out of school care in principle.
"Millions of pounds are going into early learning and childcare now, with much more proposed in the future. School age childcare should be included in such investment plans, but it is not.
"I know the minister for children has asked the early years taskforce to look into out of school care, so there is potential for progress on the issue. Our network will support this process.
"But I would like to see out of school care included in future proposals, as would the many parents, providers and children who need this support."
Comments compiled by BBC reporter Marianne Taylor.