David Eaglesham, former SSTA general secretary, dies.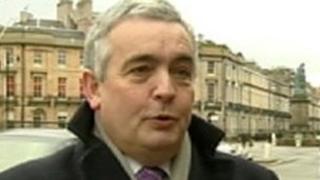 A former general secretary of the Scottish Secondary Teachers' Association (SSTA) has died following a long illness.
David Eaglesham held the post for 12 years, from 1996-2008.
Acting General Secretary Alan McKenzie said Mr Eaglesham was an "outstanding general secretary" who had brought a "sense of tirelessness" to the SSTA.
He said Mr Eaglesham had made a "huge contribution" to the organisation and said the SSTA was "deeply saddened".
Mr Eaglesham took on the role of general secretary following the death of Alan Lamont.
'Huge contribution'
Mr McKenzie said: "David brought to the post a sense of tirelessness and, sometimes in the face of much opposition, a determination to change the SSTA and increase its profile nationally.
"Those of us who worked with him remember his huge contribution. We are all deeply saddened by his death following a long illness".
Larry Flanagan, general secretary of the The Educational Institute of Scotland (EIS), said: "Everyone associated with the EIS was saddened to hear today's news.
"David was committed to the work of his association, as well as to the cause of Scottish education more generally.
"The EIS has always enjoyed a positive working relationship, both with David personally as well as with the SSTA on issues of mutual interest, through his term as general secretary and beyond.
"Following David's death, the EIS offers condolences to his family, friends and colleagues."