Police traffic warden role ends in Scotland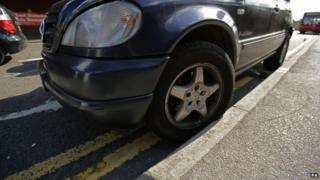 The role of police traffic wardens across most of Scotland has ended.
However, plans are being discussed with councils that want to retain services in Inverness, Midlothian, West Lothian and Stirling.
Since 1998 local authorities have been able to consider the use of decriminalised parking enforcement.
Police Scotland said its officers would still get involved if parking was dangerous or caused significant obstruction.
The end of the police traffic warden role, which came into effect on Monday, follows months of consultation with councils, staff and partners.
Parking enforcement in Scotland was historically delivered by traffic wardens, but the Road Traffic Act 1991 introduced provisions enabling the decriminalisation of most non-endorsable parking.
Obstructive parking
The relevant provisions of the act began in June 1997. This allowed for significant change to be made to parking enforcement in a number of council areas, and a change to the service provision by local forces.
Decriminalised parking enforcement can be used by councils as part of an integrated approach to parking, town centre management and their responsibilities in relation to Blue Badge schemes.
Assistant Chief Constable Wayne Mawson said: "It is vital that Police Scotland make sure we are delivering a consistent and professional service and that we are targeting the priority issues in order to keep people safe.
"Changes to legislation in relation to most parking offences means that there is no longer a requirement for enforcement to be carried out by the police.
"As a result, the traffic warden service had already been withdrawn from many parts of the country; it is in keeping with this approach that led to the removal of the service today."
He added: "I would like to reiterate that where parking is dangerous or causes significant obstruction Police Scotland will task police officers to resolve the issue using the appropriate enforcement activity, including parking tickets, other direct measures or prosecution reports.
"We recognise the impact theses changes have had on staff and we have consulted them on the options available to them including alternative roles within the organisation."