NHS fraud rises by 42% in five years, FOI data shows
A BBC Scotland investigation has found that fraud in the NHS has risen by 42% in the past five years.
A Freedom of Information request showed Scottish NHS boards recorded £2.19m of fraud by health workers and patients between 2008 to 2013.
NHS Scotland Counter Fraud Services said it was catching those responsible and also focusing on deterrence.
Healthcare fraud experts have estimated the actual cost to NHS Scotland could be £800m a year, or 7% of the budget.
Jim Gee led the Department of Health's counter-fraud services for nearly a decade and has worked in the sector for 25 years.
He now works for business advisers BDO as their director of counter fraud services.
Mr Gee said: "We currently have 15 years of data covering 14 different types of NHS expenditure. We're currently finding just under 7% on average of that expenditure is lost to fraud.
"You're looking at somewhere between £300m and £800m going astray (in Scotland).
"It's an enormous amount of money diverted from patient care.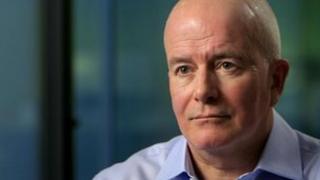 "People not getting the treatment they need, sometimes having to wait longer for that treatment, and that's why it's an important problem which needs to be tackled very seriously with an appropriate level of investment in that work."
He added: "My experience of the NHS Counter Fraud service in Scotland is that they're very effective but I don't think they have the resources they need to have the impact they would like to have."
A FOI request submitted by the BBC revealed that the amount of fraud detected by Scotland's 14 health boards has risen from £337,442 in 2008-2009 to £479,135 in 2012-2013, representing an increase of 41.9% over the five-year period.
A total of 620 incidents were recorded over that timeframe, and NHS Scotland managed to claw back 10.8% of the money stolen from the health service in that period, which amounted to £237,297.
The responses given by the boards revealed a 5.3% conviction rate for people caught committing fraud against NHS Scotland, with many cases deemed as not having enough evidence to be prosecuted.
NHS boards did not always supply the amount lost through the various types of fraud but according to the FOI results, the most common types of fraud committed by NHS staff was working in another job while on sick leave or shifts not worked.
Gordon Young, head of Counter Fraud Services (CFS) in Scotland, said in the past year it had prosecuted nine cases, including the case of a health service employee who faked her dad's death to get paid leave from work.
Another case involved an NHS communications manager who claimed hundreds of pounds for private journeys from a health board taxi account, after she had left her job there.
Mr Young said: "Frauds are committed by a small minority. It's a hidden crime, it's a difficult crime to quantify.
"We don't believe we want to quote massive figures when we can't fully justify them. But the losses are certainly a considerable amount of money."
He said the CFS conservatively estimated the scale of NHS fraud was 1% of the NHS budget, which represented £110m a year, 50 times the value of fraud detected by Scotland's NHS boards over a five-year period.
He said the service was focusing on "making sure money doesn't go out the front door in the first place, rather than trying to recover it after we've lost it."
BBC Scotland Investigates: Scotland's NHS Thieves will be broadcast on Wednesday 5 February, at 22:35 on BBC One Scotland, and for a week afterwards on the BBC iPlayer.