Strong drink 'too cheap' to ignore, Scottish government argues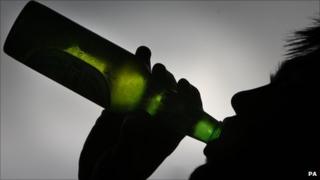 Alcohol as cheap as 20p a unit proves minimum pricing is needed to combat Scotland's relationship with drink, according to the health secretary.
Alex Neil said a week's worth of the "sensible" amount of alcohol could be bought for less than £5.
The Scottish government's controversial policy to set a 50p minimum price per unit is due to be tested at the Court of Session in Edinburgh.
Opponents in the drinks industry believe the plans would be ineffective.
They also argue it could become a barrier to trade around the world.
Mr Neil said: "Each week on average in Scotland, alcohol misuse is responsible for more than 20 deaths and 700 hospital admissions.
"Being able to buy 20 units of alcohol for the change in your pocket is just unacceptable.
"It shows that this kind of high-strength alcohol - the type which does much of the damage - has become far too cheap in Scotland."
Legal challenge
The health secretary cited research he said showed it was possible to buy three litres of branded high-strength cider, about 22 units, for £4.50.
It also suggests 12 cans of lager - at 21 units - are being sold for £8, while 26 units of supermarket brand vodka is available for less than £11.
A legal challenge from the Scotch Whisky Association (SWA) to the introduction of a minimum price for alcohol in Scotland was rejected in May last year.
The association appealed against that judgment, and the issue is due to return to court this week.
Rosemary Gallagher, of the SWA, said: "Minimum unit pricing is an unfair and untargeted policy that penalises responsible drinkers, especially those on lower incomes.
"It impacts poorer people in society and will have little effect on the highest earners who make up the majority of hazardous and harmful drinkers."
She said that while affordability may have risen, alcohol-related harms and deaths have been falling in Scotland in recent years.
The UK government has shelved plans to introduce a minimum price for a unit of alcohol in England and Wales.
Prime Minister David Cameron cited concerns over evidence it would work and possible legal challenges.