Scottish independence: Tory peer Lang's 'dishonour' comment sparks row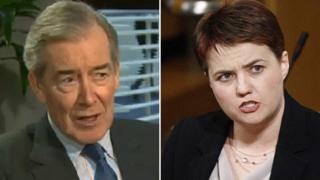 Scottish Conservative leader Ruth Davidson has hit out at the use of "intemperate language", amid a row over comments made by a Tory peer.
Speaking in the House of Lords, Lord Lang said Scottish independence would "dishonour the sacrifices" of people who died fighting for Britain.
Ms Davidson was challenged over the remark by Alex Salmond during first minister's questions at Holyrood.
She said she deplored such language, wherever it came from.
Lord Lang, who served as secretary of state for Scotland from 1990-95, made the comments as the Lords debated the issue of Scottish independence, ahead of the referendum on 18 September.
The peer said: "For generations, Scots and English have lived alongside each other sharing a British heritage.
"They fought shoulder to shoulder in the battles of the past three centuries and still serve together today.
"We all take pride in that.
He went on: "Together they built and administered the empire before turning it into the Commonwealth. Both countries are woven into the fabric of the UK.
"Must they now, both Scotland and England, disavow that shared history and wouldn't that dishonour the sacrifices made in common cause of those who died for the UK - the nation now to be cut in two if the present generation of Scottish nationalists have their way.
"I earnestly hope not."
Mr Salmond used question time in the Scottish Parliament to challenge Ms Davidson on the remarks, asking her: "Can she at least put that ridiculous point outside the scope of this debate?"
The Scottish Tory leader replied telling Mr Salmond he was not on strong ground, given "intemperate" language on the pro-independence side of the debate.
In a statement, Ms Davidson later said: "Lord Lang must speak for himself.
"I deplore all intemperate language in this hugely important constitutional debate, whatever the source.
"I believe everybody in Scotland, no matter their views on the referendum, will come together throughout the year to commemorate those who fought for their country in the First World War."