Five Scottish fire control rooms to close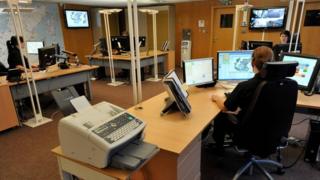 Five control rooms for the Scottish Fire and Rescue Service are to close.
The service's board has approved plans to reduce the number of control rooms, which handle emergency calls, from eight to three.
Those being lost are in Aberdeen, Inverness, Dumfries, Fife and Falkirk, while Johnstone in Renfrewshire, Edinburgh and Dundee will remain open.
The Scottish Police Authority later agreed to proposals to cut the number of its control rooms to just five.
The fire board agreed to close five of its control rooms by a vote of nine to three.
It said the implementation of the plans was expected to take three to five years.
'Fit for purpose'
The board had previously agreed to retain the Johnstone control room, the largest in Scotland, which currently handles more than 50% of all fire calls in Scotland.
Members decided that the combination of its facilities in Blackness Road, Dundee, and Tollcross, Edinburgh, was the most suitable solution to complement Johnstone.
Board chairman Pat Watters asked the board to support the recommendation to ensure the fire service could "provide a robust, resilient and fit for purpose, long-term solution for fire controls in Scotland".
The board reiterated that there would be no compulsory redundancies.
Darren Gibb, from the Fire Brigades Union in Aberdeen, described the decision as "a disaster" for the north of Scotland.
He told BBC Scotland: "There will be devastation across the whole of Scotland.
"The main problem that we have is that the north is left exposed with no cover.
"Everything moving to Dundee and south is a disaster for the north and it seems like the north is the forgotten part of the country."
Improve efficiency
Mr Gibb said there was a "great underestimation" of the local knowledge used in control rooms.
He added: "We don't use postcodes because we've got such a vast area and we have got to have the local knowledge to determine where the incident is, where the nearest appliances are and get the best and quickest response - because most of the time it's life-threatening incidents."
The fire board said that selling the buildings that currently house control rooms would raise £18m, with annual operating cost savings of a further £4.7m.
The control rooms deal with emergency 999 calls, with the police rooms also dealing with calls to the non-emergency 101 number.
Both services have argued the changes will reduce costs and improve efficiency, but the proposals have been politically controversial with campaigns being mounted in several areas - including Dumfries and Aberdeen - to save the local facilities.
Police Scotland will be closing two control rooms in Aberdeen, along with those in Stirling, Dumfries, Glenrothes and Pitt Street in Glasgow.
The force will now have a "phased consultation with staff affected on a site-by-site basis".