Andy Murray marriage tweet 'was a joke'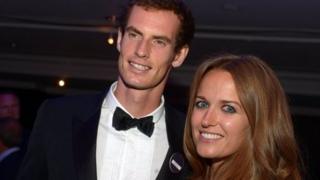 A spokesman for Andy Murray has denied the Wimbledon champion is to marry his girlfriend Kim Sears after this year's tournament.
During a question and answer session with fans, Murray tweeted: "We are getting married just after Wimbledon should be a great day".
But his PR agency later said it had been a "tongue in cheek answer".
Murray and Sears have been a couple since 2005 and she is a regular presence at his matches.
The 26-year-old Scot was responding on Twitter to a question from @saravana_24, who asked: "When are you getting married?"
About an hour later, Murray told his 2.3 million followers: "3 things.. I don't smoke grass, I'm not getting married(yet) and I don't want to kill rafael Nadal.."
Murray and Sears have previously dodged questions about whether or not they plan to wed.
This year's Wimbledon runs from 23 June to 6 July.