Cost of improving Glasgow to Edinburgh rail line 'up by £90m'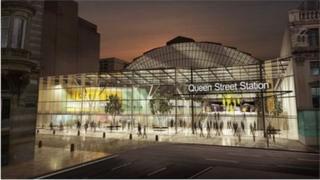 The cost of improvements to the Glasgow to Edinburgh rail line has risen by more than £90m, Transport Minister Keith Brown has announced.
The Edinburgh to Glasgow Improvement Programme (Egip) has increased in cost from £650m to £741.5m.
The extra money will be spent mainly on redevelopment work at Glasgow's Queen Street station.
The Egip programme aims to increase capacity and cut journey times between Scotland's two biggest cities.
Network Rail has awarded contracts for work, including the electrification of the main line from Glasgow Queen Street to Edinburgh Waverley.
'More comfortable'
Mr Brown said: "I welcome the contract award on the core electrification of the route and the hundreds of jobs this will support.
"This announcement represents another hugely important milestone in the delivery of Egip and shows that we are pressing ahead with the improvements which will give Scotland a railway fit for the future.
"Passengers will experience the benefits of a faster, more comfortable and more efficient railway. But the whole of Scotland will also enjoy the boost to our economy and environment."
The SNP's 2011 election manifesto promised Glasgow to Edinburgh journeys "of just over half an hour" at a cost of £1bn.
A review in 2012 recommended a phased reduction in journey times and cut the cost to £650m.
Lengthening platforms
Full electrification of the line is expected to be completed by the end of 2016, but Mr Brown faced criticism in May last year when he told the Scottish Parliament it would be 2018 before journey times were cut to 42 minutes.
At the time, Labour's Richard Baker said: "It's laughable that Transport Scotland and Keith Brown are describing Egip as 'on track' when they have already cut funding and are now announcing further delays to the schedule."
Journeys of 42 minutes, rising to 44 minutes at peak time, are now expected by 2019, with shorter 37-minute journeys expected by 2025. The fastest journey at present is about 48 minutes.
In December the transport minister opened a £25m redevelopment of Haymarket station, which he said was "on time and on budget".
However, improvement works at Queen Street, including lengthening platforms and integrating the station with the neighbouring Buchanan Galleries shopping centre, have more than doubled in cost from £49m to £120m.