Edinburgh 'helps lead London-centric recovery'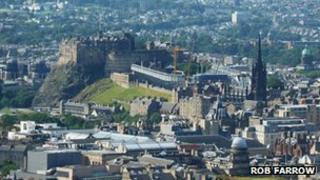 Edinburgh has bucked the trend of many UK cities by helping lead the economic recovery, coming second only to London for jobs growth, says a think tank.
However, analysis by the Centre for Cities claimed the economic recovery was deepening the divide between London and most other UK cities.
Glasgow was second last for jobs growth among the UK's 63 biggest cities.
The think tank said the Scottish referendum would intensify questions about more powers for English regions.
It raised questions over why the UK continued to be one of the most centralised developed countries in the world.
"In 2009 local government raised just 17% of its income from local taxation compared to the OECD average of 55%," it said.
"This leaves cities with few levers to pull to tailor economic policy to their specific requirements.
"In a year in which manifestos are finalised and debates about the Scottish referendum intensify, devolution and particularly the 'English question' are likely to develop into a key talking point of UK politics."
Signs of growth
The report by the independent Centre for Cities think tank - which was set up by the Labour peer, Lord Sainsbury - suggested London was creating 10 times as many private sector jobs as its nearest rival, Edinburgh.
Since 2010, 79% of private sector jobs growth had occurred in London. Britain's next nine largest cities accounted for just 10% of all new private sector jobs created, it said.
However, researchers found "welcome signs of growth" in some cities including Edinburgh, where "significant numbers" of private sector jobs had helped to offset some of the impact of public sector job losses.
Analysis suggested Edinburgh created 23,100 private sector jobs, though it lost 3,300 public jobs, between 2010 and 2012.
Aberdeen also made it into the top ten, having seen the creation of 4,900 private jobs - but a loss of 1,100 public jobs.
Aberdeen came second to London in terms of business start-ups, with 27.1 per 10,000 population in 2012 (compared to 57.1 in the UK capital, which far outstripped other cities in this area).
The city also compared favourably with regard to employment rates, coming 5th with a rate of 75.5% during June 2012 to June 2013.
North-south divide
However, many cities continued to feel the impact of the downturn.
Glasgow saw an overall drop in jobs growth of 2.7%. Over the two year period, it lost 7,800 private jobs and a further 6,800 public jobs.
The city came 55th on the list for employment rates at 64.8%, while Dundee came 57th with a rate of 64.3%.
The study clearly revealed a north-south divide when it came to the areas having the highest number of businesses.
With the exception of Aberdeen all top-ranked cities were located in the South whereas, with the exception of Plymouth, all bottom-ranked cities were in the North and Scotland.
At 3.1%, Aberdeen experienced the biggest increase in its number of businesses.
The report highlighted Scotland's referendum on independence to be held on 18th September, when people in Scotland will asked the straight "yes/no" question: "Should Scotland be an independent country?"
The Centre for Cities report said: "Even if Scotland's voters choose to remain in the Union, it is likely that it will receive a series of 'sweeteners' as its politicians use the referendum to leverage greater powers from Whitehall."
It also pointed to recent plans by the UK government to pass additional powers to the Welsh Assembly.
"These developments have left many in England, particularly in those areas bordering Scotland, wondering what this means for them," it said.