Scottish housing market conditions 'strengthen'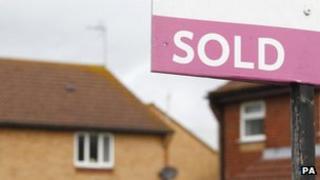 Latest figures from Solicitor Property Centres Scotland show a 36% rise on house sales in the final quarter of 2013 compared with the previous year.
The average house price between October and December 2013 also rose to £179,223 - an increase of 4.8%.
In most parts of the country sales during the fourth quarter were at their highest level since 2007.
SPC Scotland chairman Peter Ryder said the number of homes selling had "accelerated" as the year progressed.
"In the third quarter sales were up 29% annually and this was followed by a rise of over 36% during the fourth quarter," he said.
"The economic picture last year was brighter than had been widely expected and activity among first time buyers and buy-to-let investors in particular grew strongly."
He said house prices rises in most areas had been "modest" with larger rises in some parts of the country offsetting falls in the previous year.
"Importantly, we're starting to see the number of homes coming onto the market rise as the improvement we've seen over the last 12 to 18 months has encouraged more sellers to test the market," he said.
"This growth in supply is likely to continue into 2014 and should help to keep house price inflation under control as we move forward."
Meanwhile, the Federation of Master Builders reported the first positive balance in the Small and Medium Enterprise (SME) construction sector since the first quarter of 2008.
FMB Scotland Director Grahame Barn said: "This survey shows that Scotland's SME building sector is back on track, posting the most positive results in nearly six years.
"However, there is still more to do."
"Scotland needs to be building and refurbishing nearly 9,000 more homes a year just to keep up with demand."
He called for a relaxing of planning regulations on brown-field sites and a reduction of VAT on home improvement work to help the industry.