Scotland weather: Rain, wind and snow strike routes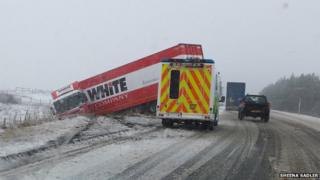 Routes across Scotland have been affected by wind, rain and snow after the Met Office issued several Yellow "Be Aware" warnings.
Forecasters had said wet and windy weather would be widespread on Sunday, with snow falling at higher levels.
Traffic Scotland said a number of routes had been hit by flooding and snow while strong winds saw some bridges shut to high-sided vehicles.
A forecast had also been issued of strengthening winds.
Traffic Scotland reported problems across the country.
It said the snow gates on the A93 between Braemar and Spittal of Glenshee had been closed.
The Friarton and Skye Bridges were closed for a time to high-sided vehicles and surface water caused problems on routes in Dumfries and Galloway and Strathclyde.
Near Stirling, the A809 was closed due to flooding between Strathendrick Golf Course and the B834 while in North Ayrshire the A760 Dalry Road was also shut between Largs Golf Club and Kilbirnie.
Sepa had flood alerts in place covering Argyll and Bute, Ayrshire and Arran and West Central Scotland.
BBC Scotland weather presenter Christopher Blanchett said there was the prospect of more testing conditions to come.
He said: "For next week, cold air looks likely to set in from the east, as the low pressure sinks south across the UK. This opens us up to direct winds from the near continent, feeding in much colder air.
"As this air travels over the North Sea, it will pick up moisture leading to the possibility of a few wintry flurries across eastern parts of the mainland.
"However, areas further west should remain dry and cold with only rain showers."