Breaking Bard: Burns Night broken down into 10 facts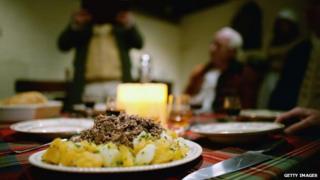 With preparations being made for Burns Suppers around the world, the BBC News Scotland website serves up 10 bite size facts on the occasion, haggis and the Bard himself.
1. Robert Burns was born on 25 January 1759 in the village of Alloway, near Ayr.
2. He wrote hundreds of works - poems, songs and letters - and performances of 716 of them were recorded for a project involving BBC Radio Scotland and Glasgow University.
3. Burns died on 21 July 1796 aged 37.
4. A formal Burns Supper, a celebration of the Bard held on his birthday, follows a traditional running order of speeches, poems and music.
5. The song Auld Lang Syne, a key feature of a supper, is hugely popular in China where it is known as You Yi Di Jiu Tian Chang or Friendship Forever and Ever.
6. Ae Fond Kiss, another of Burns's most famous songs, is the title of a 2004 Ken Loach film set in Glasgow.
7. In 2004 there was also talk of making a big budget film on the poet, an ambition film-makers are still keen to realise with Scots actors Gerard Butler, Brian Cox and John Hannah linked to roles.
8. Authentic Scottish haggis was banned in the US in 1971, when the US Department of Agriculture took a dim view of one of its key ingredients - sheep's lung.
9. Traditionally the dish is served with mashed turnips and potatoes, but alternative serving suggestions include lasagne and bonbons.
10. On Sunday, the day after Burns Night festivities, people are being invited to throw rather than eat haggis at the Alloway 1759 Festival's Haggis Hurling Championship.