School fees 'cheaper than moving'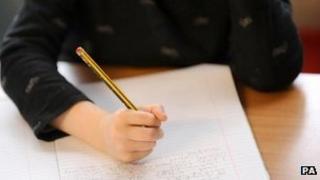 Sending children to private school can cost parents less than buying a house near the best local authority-run schools, a think tank has claimed.
A study carried out for Reform Scotland looked at house prices in the catchment areas for state schools.
It suggests homes near eight of the top 10 performing schools cost at least 34% more than the local average price.
Reform Scotland said that in some cases it would be more cost effective to pay thousands of pounds for education.
Researchers looked at property prices in the catchments of the 10 best-performing state secondary schools, those with the highest proportion of pupils getting three or more Highers.
The study also considered costs in the catchment areas of what Reform Scotland described as the 10 worst-performing schools.
Property prices in eight of these areas with the "worst" schools were below the local average in their catchment area, the research suggests.
Reform Scotland said it that, especially in more urban areas, it would cost parents less to send two children to a private secondary school and live in a less expensive area than to buy a house in the catchment of one of the best-performing schools.
It said while the average price paid for a house in Edinburgh over the last three years was said to be £225,931, this rose to £327,313 in the postcode area of Boroughmuir High School - where 64% of S4 pupils passed at least five standard grades last year.
The think tank said that with properties in this area £101,382 more expensive than the average in the capital, it could cost house buyers £127,000 to borrow this extra amount at a competitive mortgage rate.
However, it would cost about £123,000 to send two children to a private school - such as George Heriot's or George Watson's in Edinburgh - for six years of secondary education.