Below inflation increase for Scotland's household water bills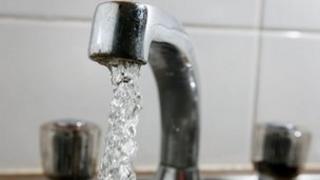 Household water charges in Scotland are to rise below the level of inflation, Scottish Water has announced.
Charges are to increase in April by 1.6%, which is just over 1% below the Retail Prices Index (RPI).
The annual water supply and waste water collection charges for a band D property will be £410.85 in 2014-15.
Scottish Water said it expected its charges to remain below the average bills of private water companies in England and Wales.
UK inflation figures from December 2013 showed the Retail Prices Index rate of inflation (RPI) stood at 2.7%.
The Consumer Prices Index, which excludes house prices, fell to 2% in December, down from 2.1% the month before.
'Best value'
Scottish Water chief executive Douglas Millican said: "This commitment of low level increases in charges for future years gives our customers reassurance that their water bills continue to deliver real value for money while we provide customer service improvements to water and waste water services in Scotland.
"These charges are helping to pay for the current £2.5bn investment programme - which is delivering the investment that Scotland needs in its water infrastructure - while supporting thousands of construction jobs."
Annual council tax bills being delivered through letter boxes will include combined water supply and waste water collection charges that come into effect from 1 April 2014.
The company says customers living in a property in council tax band A will pay £4.26p extra, while those in a band D property will pay £6.39p more over the year.
This is the second rise in bills since 2009. An increase in 2013 was also below the level of inflation.
Deputy First Minister Nicola Sturgeon said: "By keeping Scottish Water in the public sector household charges in Scotland will continue to be amongst the lowest in the Britain and by the end of 2014-15, Scottish Water will be providing one of the best value water and sewerage packages in Britain."
Water and sewerage provision was privatised in England and Wales in 1989 but remains in the public sector in Scotland and Northern Ireland.
Peter Peacock, who chairs the Customer Forum for Water in Scotland, said: "This announcement stands in stark contrast to those consumers have come to expect from other utilities.
"The Customer Forum has been working closely with Scottish Water over the past year and we welcome the fact they have chosen not to increase their charges by the amount they would be permitted to.
"Delivering a charge rise that is less than the lower (CPI) rate of inflation is a significant indication the company recognise the circumstances of their customers and that they intend to continue to drive improvement in services through greater innovation and efficiency, and not by coming to customers for more than they might be able to afford."